If you're planning a 4-day break in Tenerife, the Teide National Park is bound to be at the top of your list. And you're spot on, because the Park is Tenerife's number one attraction.

But there's a lot more you can see in Tenerife in 4 days.
Cities where time seems to have stood still; natural parks where you can see the island's volcanic origins; beaches where you can lie in the sun or bathe in the crystal-clear waters, or you can sample our delicious gastronomy—these are just some of the essentials in Tenerife.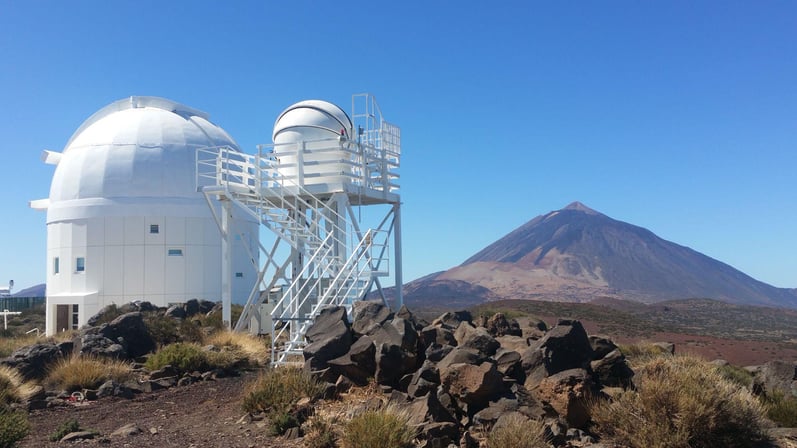 Break free, open your mind and go and pack your suitcase, because we've prepared a 4-day itinerary for you, to make sure you don't miss anything of what Tenerife has to offer. So let's get started!
But before we start our run-down of what you can see in Tenerife in 4 days, here is a map on which we've marked the points of your tour, to help you feel that you've already arrived on the island of eternal spring.
Book the best Tenerife excursions
Day 1. Visit Mount Teide, La Orotava and Puerto de la Cruz: ideas for you Tenerife tour that you won't want to miss
Your first day on Tenerife, so get off to a flying start with the places that are bound to be at the top of your list.
To space out the power and excitement, we suggest the Teide National Park for the first half of the day, and for the second half, two delightful cities: historic La Orotava and the coastal city of Puerto de la Cruz, which could well be where you'll stay overnight.
But think about it carefully, because the order of your visits has consequences.
We say this because if you decide to go to to Mount Teide during the morning, you will have very clear views and be able to enjoy the morning freshness and, if it's the weekend, you can have a delicious lunch in Spain's highest restaurant
On the other hand, if you go in the evening, you can stay to see the sunset, as well as the star-studded sky above Mount Teide, one of Tenerife's great highlights.

If you want to make the ascent in the Teide cable car, watch the sunset from one of the volcano's free-access paths, and do some star-gazing with specialist Starlight Guides and long-range telescopes, we recommend you book the Sunset & Stars excursion. The most comprehensive Teide night-time experience.

So now, let's move on with our other plans for what to see in Tenerife, because we have a lot of ground to cover.
Take me to the best Tenerife Excursions
Teide National Park
To give you an idea of the significance of the Teide National Park, and so that you can see why it is top of our list of recommendations for things to see in Tenerife in 4 days, we'll tell you three facts about it:
The Teide National Park is the largest of the Canary Islands' National Parks, and owes its name to the Teide volcano, which is...
The third-largest volcano in the world from its base on the ocean bed.
At 3,718 m, it is the highest peak in Spain.
Apart from the actual experience of ascending to the summit to enjoy the views, on Teide's lunar-like surface you can see craters, ancient volcanoes, rivers of petrified lava, and active fumaroles, making this a geological treasure-house.
As well as a feast for the senses, of course.
So how do you reach this wonder of nature?
There are plenty of excursions to Mount Teide, but to get the most from your visit, the best plan is to take the trip up in the cable car, which is physically more practical and convenient.
To make your adventure as enjoyable as possible, it is best to prepare for your visit to Mount Teide, find out beforehand all you need to know about the ways of making the ascent, prices and timetables, the minimum age requirement, the weather, suitable clothing, and so on.
Having said all that, let's get started on Tenerife's most popular day out, and the most important excursion from Puerto de la Cruz.
Are you coming along?
I want to book my Teide excursion in Tenerife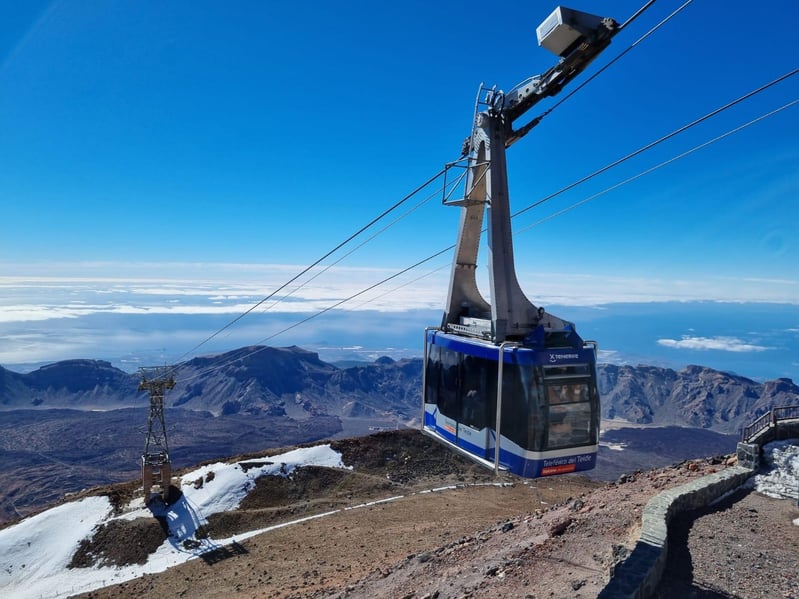 1. Mount Teide Tour with Cable Car Tickets
As we said earlier, if there's one experience you can't afford to miss among all the things you can do in Tenerife, it's a cable-car trip up Mount Teide.

The ascent up the sides of the volcano is an experience in itself, and travelling above the geological remains of the world's third-largest volcano with views of the Canary Islands' biggest National Park is a never-to-be-forgotten adventure.
One idea that cannot fail to succeed in Tenerife is the organised Mount Teide Tour with Cable Car Tickets—one of the island's top excursions because, over the course of a few hours, you will explore the Teide National Park with no thought for anything but enjoying yourself.
The excursion includes bus pick-up at a point near your hotel, and you will be accompanied by a guide who will tell you about all the wonderful sights to be seen on the tour.You also have the option to book your tickets for the ascent and descent on the cable car.
The perfect early-morning excursion that will leave you with plenty of time to enjoy other activities in Tenerife for the rest of the day.
Take me to book this Teide excursion in Tenerife
2. Evening excursions to Mount Teide
If you prefer to visit Mount Teide later in the day, you can choose whether to visit during the evening or at night—there are several excursions that may interest you:
The first is a trip with transport provided that will take you to watch the sunset from one of the viewing points in the National Park, and then do some stargazing with Starlight guides and long-range telescopes. This excursion is called Mount Teide Night Tour, and is especially popular.

You could also go up the side of the volcano at twilight to see how the sky undergoes a transformation from the clearest blue through a countless series of darkening shades until night fall.

If you fancy a sensational evening on Mount Teide after travelling up in the cable car outside normal hours, followed by stargazing, the Sunset & Stars excursion is for you. This excursion includes bus pick-ups in both the north and south of Tenerife, a ticket for the cable car at twilight, the use of long-range telescopes, an accredited Starlight guide to accompany your observation of the stars, and a picnic if you wish.
And if you love science and astronomy, you should definitely book the Astronomic Tour, which includes a visit to the Teide Observatory, and stargazing with the help of a Starlight guide, as well as transport from a point near your hotel, naturally.

No matter which option you choose, getting a sense of the vastness of the universe using long-range telescopes from Mount Teide is one of the activities that Tenerife offers which is available in very few places in the world—in fact, it can only be compared with certain parts of Chile and Hawaii.
So are you going to book one of these excursions for your 4-day trip to Tenerife?
Take me to book my night-time Teide excursion in Tenerife
3. Excursions to the summit of Mount Teide
As we have already said, there are lots of ways to discover the Teide National Park, and one of them is to visit the summit, an experience that requires a degree of preparation—we suggest therefore that you check this complete guide on how to get up Mount Teide Peak.

The first thing to bear in mind is that to make the ascent to the peak of Mount Teide, you need a special permit from the National Park authority, because visitor numbers are restricted in order to protect the site. You need to apply weeks or even months beforehand, depending on the time of year.
Making the ascent with an organised excursion has several advantages:
You will be accompanied by an expert guide who will show you all the secrets of the volcano.
You will save the stage of applying for the permit, and of obtaining cable car tickets to fit in with your designated visiting slot. The company will take care of this process for you.
The excursion includes transport from the north or south of the island, and your ticket for the cable car ascent and descent.
You won't need to worry about a thing!
And if you'd like to go one step further, you can book a VIP ascent to the peak with an exclusive guide who will go at a pace that suits you.
The plan for this Tenerife activity is to take the cable car at the base station, at an altitude of 2,356 m, which will leave you at La Rambleta, the departure point for the trails at the summit of Mount Teide (there are three distinct paths high up on the volcano that you can take with a manageable degree of difficulty; the path that leads to the crater requires a permit) and from there you ascend on foot to the top of the volcano.
Take me to book this Tenerife excursion to ascend to the peak of Mount Teide by cable car
If you're fit enough and keen enough to dedicate more time to Mount Teide, you can climb with a guide along the Montaña Blanca trail and then make the descent by cable car. But bear in mind that this adventure will take at least 6 hours, and that you will have to miss other things you could do in your 4 days, such as discover La Orotava, which we are just about to discuss.

But don't worry, because whichever way you choose, Tenerife's Mount Teide Peak is one of those adventures that is never the same twice—as the time of year and the atmospheric conditions make the landscape appear different every time.
Take me to book this Tenerife excursion to ascend to the peak of Mount Teide by cable car
La Orotava
We continue with our list of things to see in Tenerife in 4 days, moving on to La Orotava, the island's biggest municipality—and one of its most attractive.

You will find plenty to see in this town, 8 kilometres north of Puerto de la Cruz: architectural heritage, fascinating gardens and a stately air, thanks to the excellent state of preservation of its streets and old houses.

With good reason, it has been designated a Historic-Artistic Site since 1976.
With most of its area lying inside the Teide National Park, La Orotava is pure, undiluted, Canary Island history, something that can be seen in its historic quarter and its steeply climbing streets.

The Casa de los Balcones [House of Balconies] is one of Tenerife's not-to-be-missed attractions, as it is one of the most traditional buildings in this town, with its magnificent wooden balcony and its well-preserved interior.
Other famous buildings are the Canary Island Baroque-style church Iglesia de la Concepción, and the Town Hall; the square on which it stands is also worth seeing.

Another place to visit in La Orotava are the Marquesado de la Quinta Roja Gardens, also called the Jardines Victoria. The gardens are worth seeing, not just for their flowers (although that is reason enough) but also because of the views offered by their location at the highest point in the town.

If you plan carefully, this is the perfect place to visit just before, or just after, Mount Teide. Moreover, you can even visit Puerto de la Cruz on the same day, as it is very near.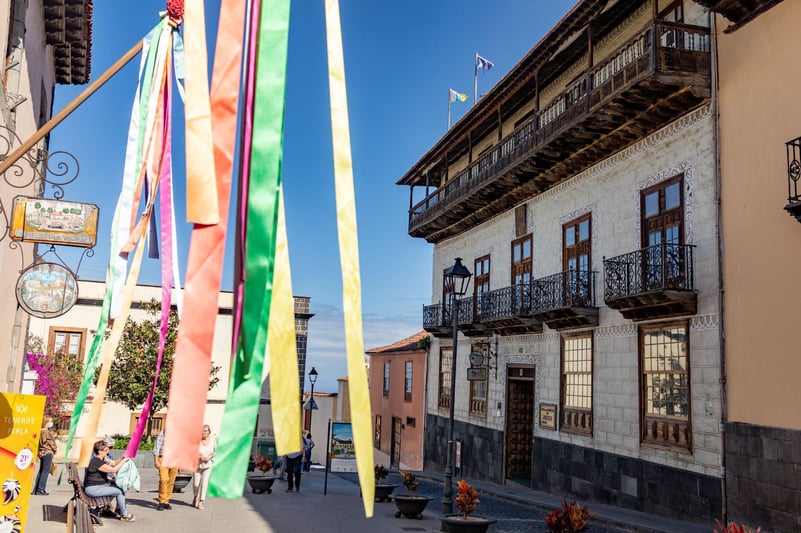 Puerto de la Cruz
Puerto de la Cruz lies on the coastal side of the Valle de la Orotava. The city has been synonymous with tourism since the tourism trend began in the Canary Islands—although it is Tenerife's smallest municipality.
Puerto de la Cruz is the ideal place to stay on the coast, because the range of hotels is huge, the city has good communications, and it offers every possible service and convenience. What's more, it has a historic quarter and an authentic working port.
If you follow this itinerary of places to visit in Tenerife in 4 days, you could spend a couple of hours in Puerto de la Cruz, which should include a stroll around its historic centre.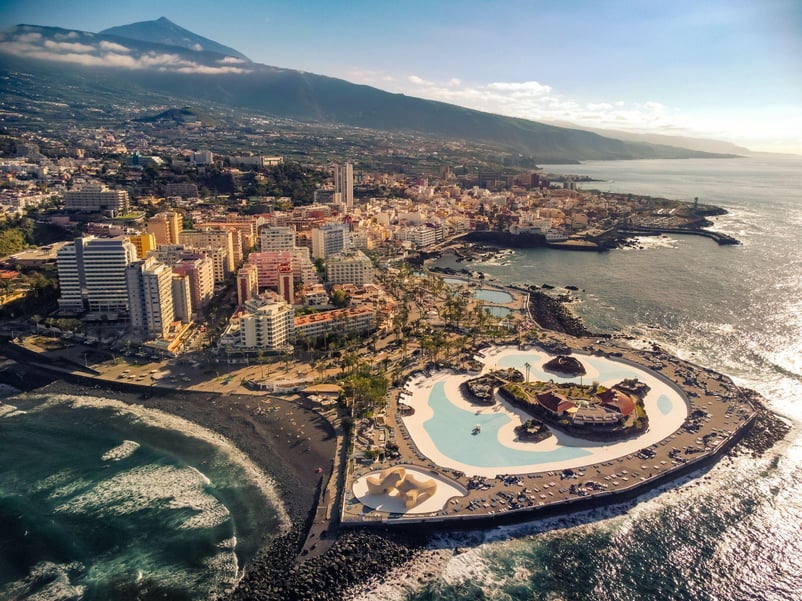 See the Casa de Miranda and the Casa de la Real Aduana [Customs House], sit and have a meal in the Plaza del Charco, and watch the waves breaking on the Costa de San Telmo—these are the essentials for any traveller keen to discover Tenerife.
After this, the first of your 4 days in Tenerife, it's quite possible that you won't have the energy to go out in the evening but, if you do, you'll be spoilt for choice in Puerto de la Cruz. And if you start your day with La Orotava and Puerto de la Cruz, and leave it until the evening to enjoy your visit to the National Park, Mount Teide and its star-filled sky, you still have no shortage of options.

Otherwise, go to bed, and prepare for the second stage of your 4-day visit to Tenerife.
Check all your options for excursions from Puerto de la Cruz here
Useful information for your visit to Tenerife (day 1)
Click on the following links to see the information you'll need to prepare for the first day of your Tenerife tour:
Day 2. Visit La Laguna, the Anaga Rural Park and Playa de las Teresitas
We're going to spend our second day in Tenerife exploring the north-east of the island and seeing stunning scenery along with one of the island's most characterful cities, San Cristóbal de La Laguna.
We will also stop off at a wonderful beach to unwind: Playa de las Teresitas.
Just like your first day in Tenerife, you can do urban sightseeing first, and then move on to nature, or vice-versa, whichever you prefer.
If you accept our recommendation, however, you'll start in San Cristóbal de La Laguna, because after a visit to the Anaga Rural Park and the beach, you may not have the energy.
Off we go on our second full day of places to see in Tenerife.
La Laguna
We can assure you that La Laguna is one of the essential places to visit in Tenerife, because it is an idyllic city, designated a UNESCO World Heritage Site since 1999, due to its excellently preserved colonial architecture.
The island's former capital, it is evident in the city's fifteenth-century streets and buildings that this was the cradle of this Canary island's aristocracy and its culture.
Mansions such as the Casa del Corregidor and the Casa de los Capitanes Generales amply demonstrate the city's splendour, as does the Plaza del Adelantado, which is home to one of its most iconic buildings, the Palacio de Nava.
And, of course, a city such as this must have a suitably glorious church, a role perfectly fulfilled by the Baroque Iglesia de Nuestra Señora de la Concepción, whose tower commands a view of the entire city—another Tenerife sight that no visitor should miss.
Take advantage of your stay in San Cristóbal de La Laguna to recharge your batteries in one of its restaurants and get ready for Anaga, another fabulous stop on your 4-day tour of Tenerife.
To help you get the most from your trip, a tour is a great idea, because it takes you from the north of Tenerife—Puerto de la Cruz—or the south—Playa de las Américas—to San Cristóbal de La Laguna, and from there to the Anaga Rural Park, Las Teresitas beach, and other places well worth a visit.
What more can you ask?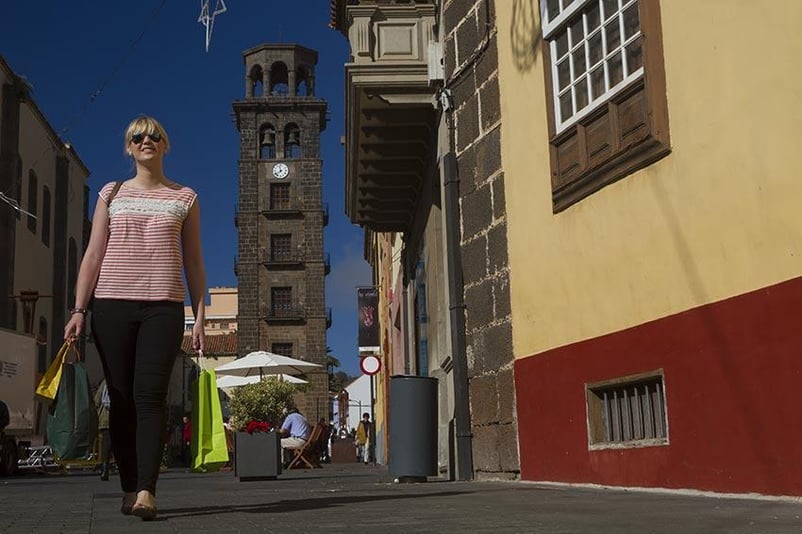 I want to book a tour to Anaga and La Laguna
Anaga Rural Park
The Anaga Rural Park is a haven for hikers and, if you enjoy hiking, you'll find no end of possibilities in Tenerife. But everyone can enjoy the park's beauty and its obvious geological splendours. What's more, there are trails suitable for all types of visitor.
Whatever route you choose in the Parque Rural de Anaga, you'll find spectacular mountains, beaches with volcanic sand, and Europe's biggest range of endemic plant species.
Moreover, in Anaga you'll find the largest forests of laurel—the island's native species par excellence. This natural wealth is complemented by the area's geology, as here you can clearly see rock formations such as the famous Roques, volcanic chimneys, the walls of gorges and deep ravines.
For this activity, you are advised to dress as if for the jungle, as you can move from dense forest to the beach in just a few minutes.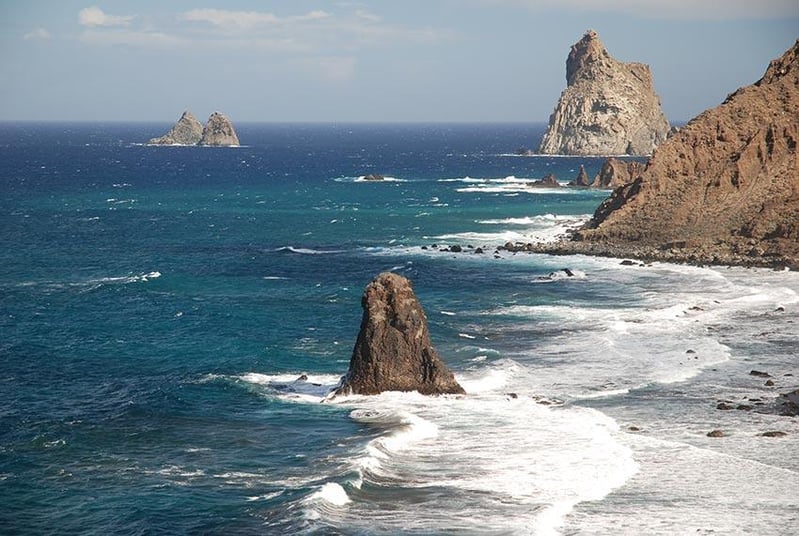 One of the advantages of going on a minivan tour, as we suggested a few moments ago, is that you can take clothing to change into if you get wet.
Las Teresitas Beach
And so we end the second stage of your four-day trip to Tenerife, with one of the most photogenic sights of your tour.
We are sure that, when you see the Playa de las Teresitas, you will want to show the world that you are there: the turquoise waters, the golden sand beneath your feet, the palm trees watched over by the little village of San Andrés on the side of the hill—all fit for a postcard.
The perfect end to a day in Tenerife that has provided both culture and exercise.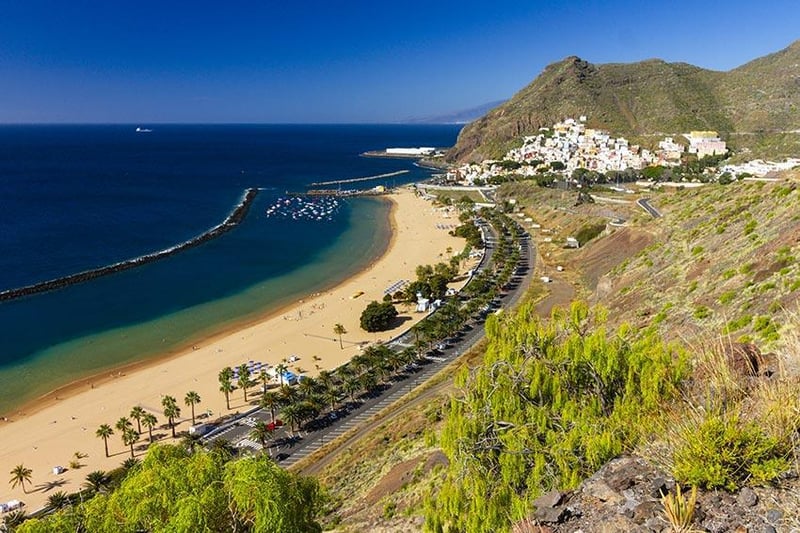 Useful information for your visit to Tenerife (day 2)
Click on the following links to see the information you'll need to prepare for the second day of your Tenerife tour:
Day 3. Visit Icod de Los Vinos, Garachico and Los Silos
Ideas for a day exploring the north-west of Tenerife, one of the island's most fascinating areas thanks to its landscape, its wines and its flora, the highlight of which is a dragon tree that is at least 800 years old, el Drago Milenario, a rara avis that can only be found in Tenerife.
This will be a day dedicated to the culture of the Canary Island and of Tenerife, a day of strolling, eating well, taking photos and sampling the area's wines, which are different from anything you may have drunk until now.
Wearing comfortable footwear and with camera in hand, we set out for Icod de los Vinos on the third of our 4 days in Tenerife.
Icod de los Vinos
The great thing about Icod de los Vinos is that its manageable size allows you to explore it without worrying that you're going to miss anything. What's more, we recommend you follow your nose through its narrow streets lined with brightly-coloured houses, pausing to admire its whitewashed hermitages and churches.
During your stroll through the town, stop off at the Plaza de la Pila which (in addition to being a very pleasant square) is home to a place where you can try the area's wines, particularly the Malvasia—a native variety of grape vine—along with Canary Island mojo sauce at the Museo de Malvasía.
And, of course, you can meet the Drago Milenario in the Parque del Drago.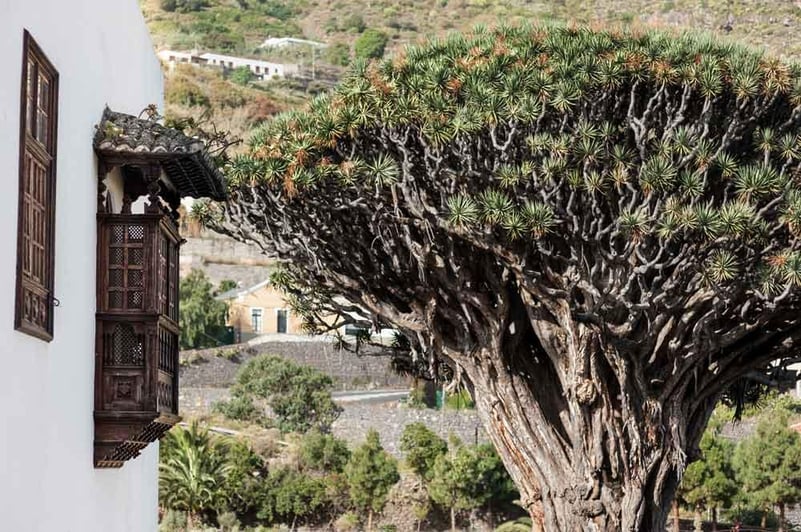 Garachico
And from one delightful town to another, where you can stroll along marvelling at its structure—a cliff divides the historic quarter from the rest of the town: Garachico.
On the way to this town, which was granted the title of Burg and Port by King Alfonso XIII, you can see a large number of banana plantations and huge tracts of Canary Island pine forest that give the area an immense environmental value.
The interesting fact about Garachico is that, in 1706, it disappeared almost completely beneath lava that poured from the Trevejo volcano, but the town sprang up again, more beautiful than ever. It is astonishing to see how humanity recovers from natural disaster.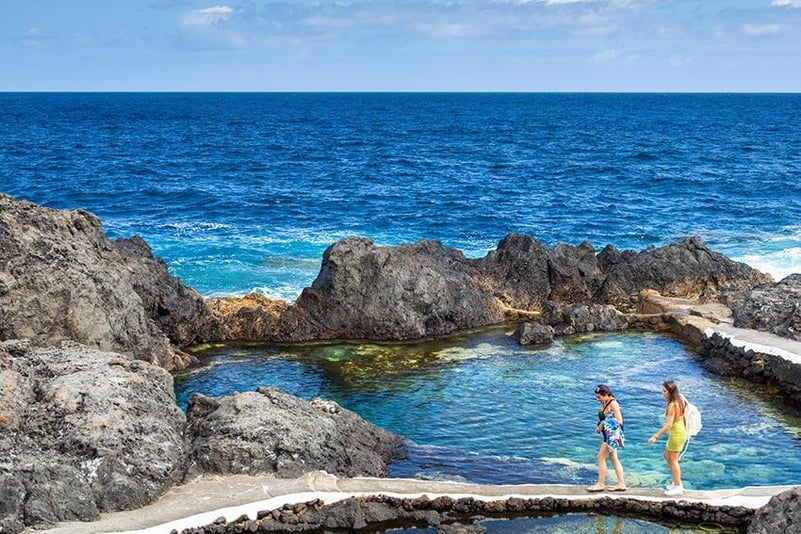 Los Silos
We end the day in Los Silos which, while it may not appear in the rankings of places to see in Tenerife, we can recommend it because it imbues visitors with a great sense of calm, and shows the importance of agriculture in the island's economy.
In fact, Los Silos owes its name to the three cereal stores that were built when the town was founded.
To make the most of your visit, the best plan is to start in the Plaza de la Luz, as you can walk out from here and see the streets built around it long ago (which are still well preserved today).
After this third day, filled with Tenerife culture, it's a good idea to rest, because the last day of this 4-day tour of the best of Tenerife will be action-packed.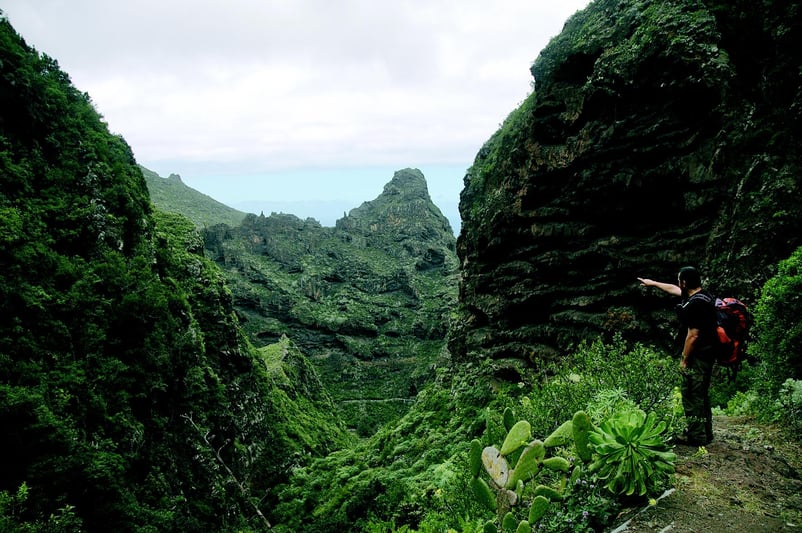 Useful information for your visit to Tenerife (day 3)
Click on the following links to see the information you'll need to prepare for the third day of your Tenerife tour:
Day 4. Visit Los Gigantes and Masca, and enjoy the thrill of whale spotting
To complete our tour of recommended sights in Tenerife, we now make our way to the south-west of the island, to another place that is full of life with accommodation to suit all tastes, from which there are plenty of excursions to Mount Teide.
But we're not taking you out shopping or partying, although we could: we're going to focus on the natural world.
Here, you can sail past imposing volcanic cliffs, enjoy a Jeep safari adventure through Masca, a landscape of immense geological interest, and see dolphins and whales in their natural habitat.
Are you ready?
Los Gigantes
The fact is that swimming under the Los Gigantes cliffs is an experience not to be missed in Tenerife. And if you can sail a kayak, surf board or a boat, all the better.
The thrill of seeing these spectacular, vertical, 600-metre-high cliffs from the water is difficult to describe—hundreds of metres of volcanic rock standing out of the water like a black guillotine. Impressive to say the very least.
Los Gigantes is in the Teno Rural Park, which is also the site of our second visit today: the Masca Gorge.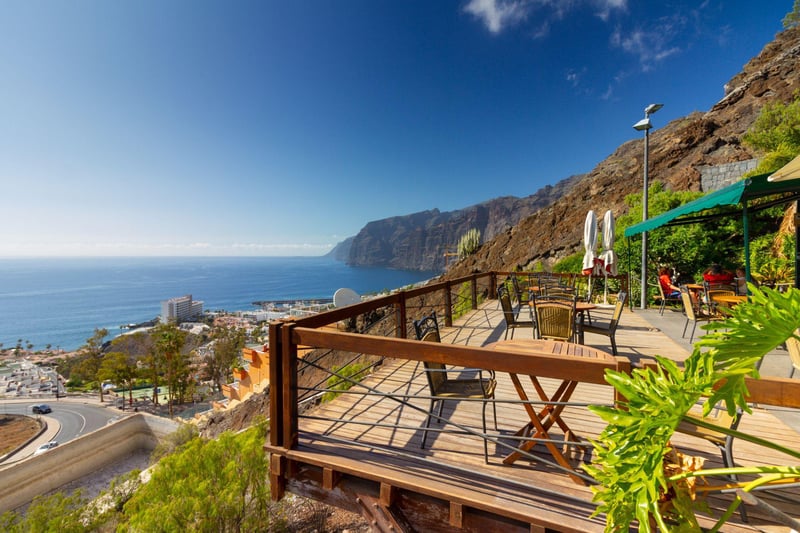 Masca
In Masca, the word 'hiking' is synonymous with a tour of deep gorges, cracks caused by water erosion down the centuries, which allows you to see materials from different ages in the vertical walls.
A hiking trail through the Masca Gorge offers two other attractions: the Caserío de Masca, a hamlet in an incredible setting, and the beaches of black sand at the end of some of the paths.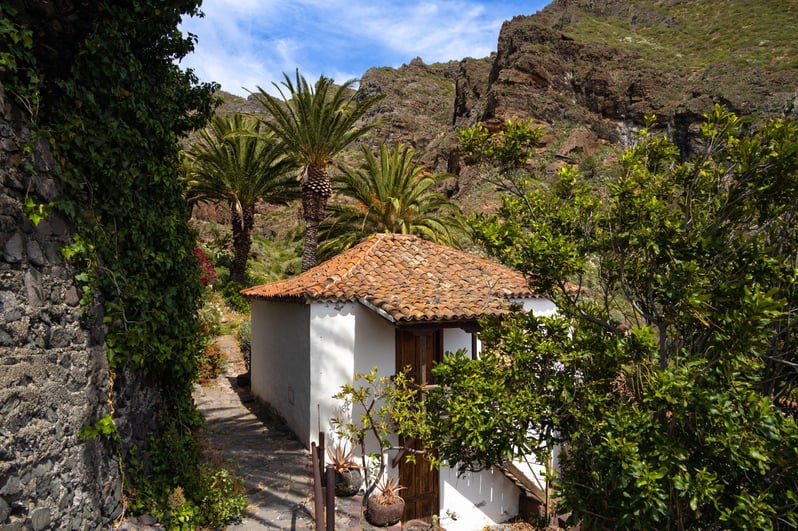 You will feel like an explorer discovering another world. If you'd like to undertake this hike in Tenerife, remember that to visit the Masca Gorge you need to book online beforehand, as access is restricted.
I want to book my hike through the Masca Gorge
Whale spotting
And to end this packed day of things to see in Tenerife, another natural spectacle that will leave anyone open-mouthed with wonder: cetacean spotting, which you can do from Los Gigantes and other points along the south-western coast, such as Costa Adeje.
Watching bottlenose dolphins and pilot whales in the wild unleashes a whole torrent of emotions—all of them good ones!
A boat trip is always a pleasure, but when you see something break the surface of the water, and realise it's a dolphin or a whale, followed by another, and you watch them jump and play, you could stay there for ever.
And here we finish our comprehensive recommendation of things to do and places to see in Tenerife in 4 days.
Now, all that remains is to go through practical matters: places to eat, transport and accommodation, so that you have all you require on your stay on the island of eternal spring.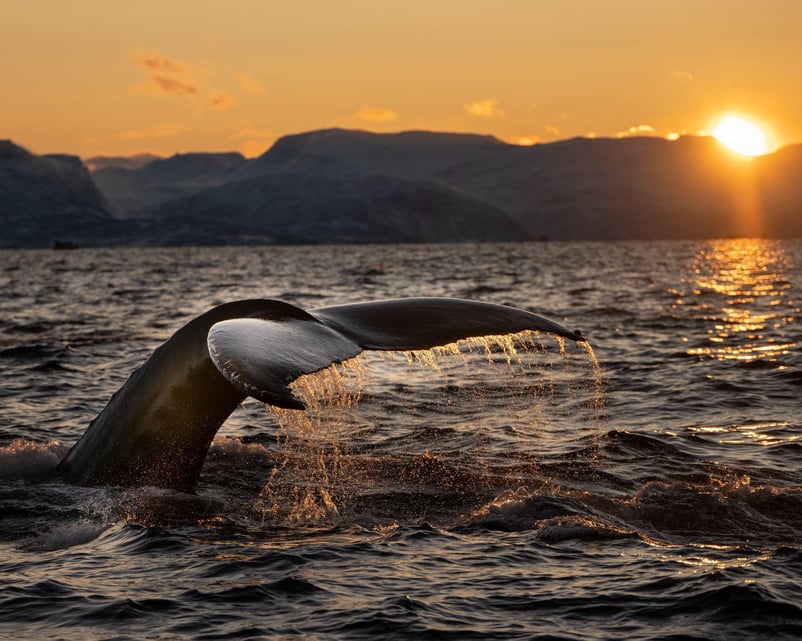 Useful information for your visit to Tenerife (day 4)
Click on the following links to see the information you'll need to prepare for the fourth day of your Tenerife tour:
What to eat in Tenerife
Tenerife's gastronomy is one of the island's most highly-appreciated aspects, as it is flavourful, seasonal, based on locally-grown produce and, although simple, has great character.
Examples of typical Canary Island cuisine include papas arrugadas ['wrinkly' potatoes], gofio [a toasted flour grain], almogrote [a pâté made from hard cheese], and sancocho [a traditional stew], all made with ingredients from the Canary archipelago, and which you will find in any of Tenerife's many restaurants.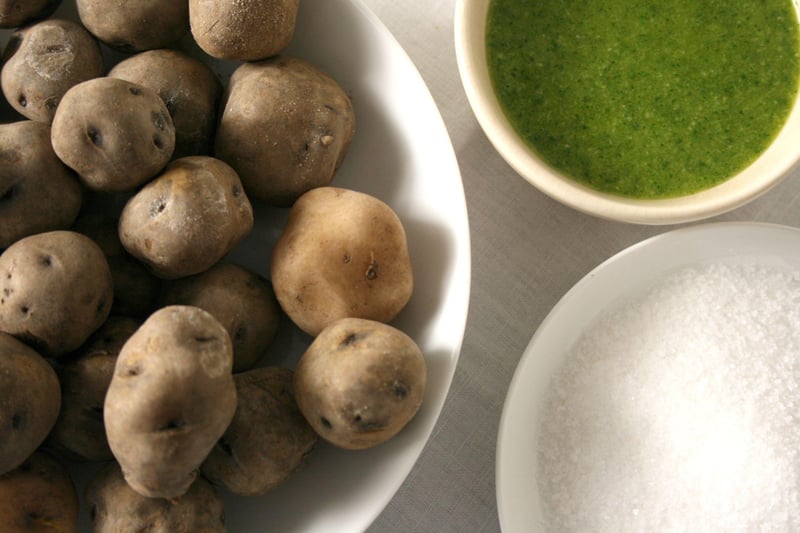 There is also an abundance of fish dishes, a true reflection of the Canary Archipelago's marine diversity: grouper, horse mackerel, red-banded sea bream, yellowfin tuna, to name just a few.
As you can imagine, Tenerife has thousands of restaurants where you can eat and drink the classics of the local gastronomy.
Click here to see restaurants on the island.
Having resolved the question of what to eat and drink, let's turn to the best way for getting around Tenerife.
How to get around in Tenerife
Let's start by saying that the best way to conveniently, reliably and sustainably discover all there is to see in Tenerife if you only have 4 days, is with an organised excursion.

Convenient because you don't have to worry about how to get to places, or parking, or filling up with fuel, or planning.
Reliable because you know for certain where you are going and at what time you will arrive.
And sustainable, because you will be sharing a vehicle with other people, thereby reducing CO2 emissions and not contributing to vehicle congestion in the areas you will be visiting, especially the protected natural spaces such as the Teide National Park.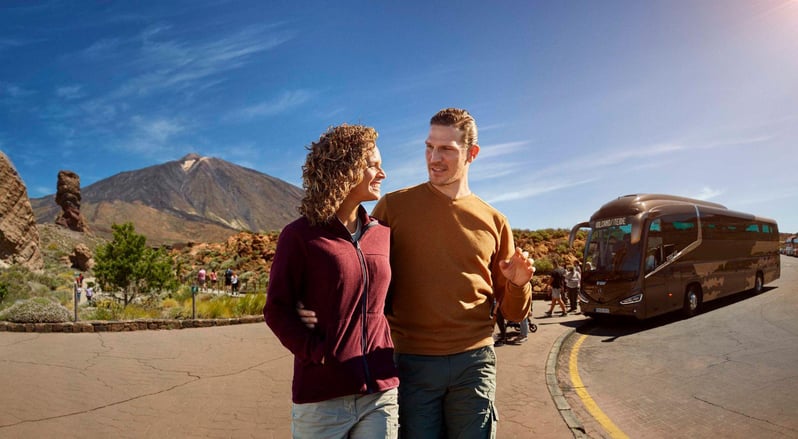 Having said that, to plan how to get around Tenerife, you need to know that buses or guaguas (as they're known in the Canary Islands) serve almost every corner of the island, and that you have the option of public transport and an endless range of organised excursions. In Santa Cruz-La Laguna, there is a tram network, and all the towns have taxis.
Show me organised excursions in Tenerife
Where to stay in Tenerife
Where can you stay so that you get to see everything in Tenerife in 4 days?
As you might imagine, the range of accommodation in Tenerife is enormous: hotels, holiday cottages, apartments, guest houses, houses with a swimming pool... the island offers all types of accommodation, and for all budgets.
To help you orientate yourself, we would say that the areas offering the broadest range of hotels and services are:
In the north, Puerto de la Cruz and the metropolitan area of Santa Cruz de Tenerife and La Laguna.
In the south, Playa de las Américas and Costa Adeje.
We suggest you look for somewhere to stay in a place that suits you in any of these resorts or cities, and use it as a base from which to set off every day.
If you are travelling as a family, the perfect solution is to stay in a hotel in the south on half board or on full board, and in the north, in a hotel located close to public transport services.
And that brings us to an end of our recommendations on all you can see and do in Tenerife in 4 days.
You could follow this 4-day Tenerife itinerary closely, or adjust it to your personal circumstances and preferences—every traveller is different, and holidays are for getting to know new places and people, but they're also for resting body and mind. And for that, there is nowhere like Tenerife.
But whatever you do on your tour of this orchard in the Atlantic, there's one thing you really mustn't miss in Tenerife if you only have 4 days, and that is a visit to the Teide National Park, in any of the ways we told you about at the beginning.
The only thing you need to bear in mind is to book your excursion in advance because places fill up quickly, especially if you want to go up to the peak.

So now do you know how you can see all the essential sights of Tenerife in 4 days?
A good way to start is by booking your excursions and activities.