When talking about Teide, as a volcano and as the highest peak in Spain, we tend to think that it is no place to visit with children. By far, going up Teide with children offers a whole range of advantages and possibilities especially if you choose one of the plans that we propose below. These are:
You strengthen your family ties

. There is nothing like taking part in activities with your children to bring your family closer.

You will be able to discover the natural and scientific heritage of the island, something that your children will also LOVE.

You will feel great

. During the experience, as you learn with your children on one of the activities we will be proposing, you will have the certainty that planning this trip to Tenerife with your children has been one of the best decisions that you have ever made.

You will be able to travel comfortably by car

: The roads to the cable car base station are in perfect condition. You

'll be there in just 90 minutes if you are travelling from the coast. Along the way, you will also find many lookout points and the children will have the opportunity to rest.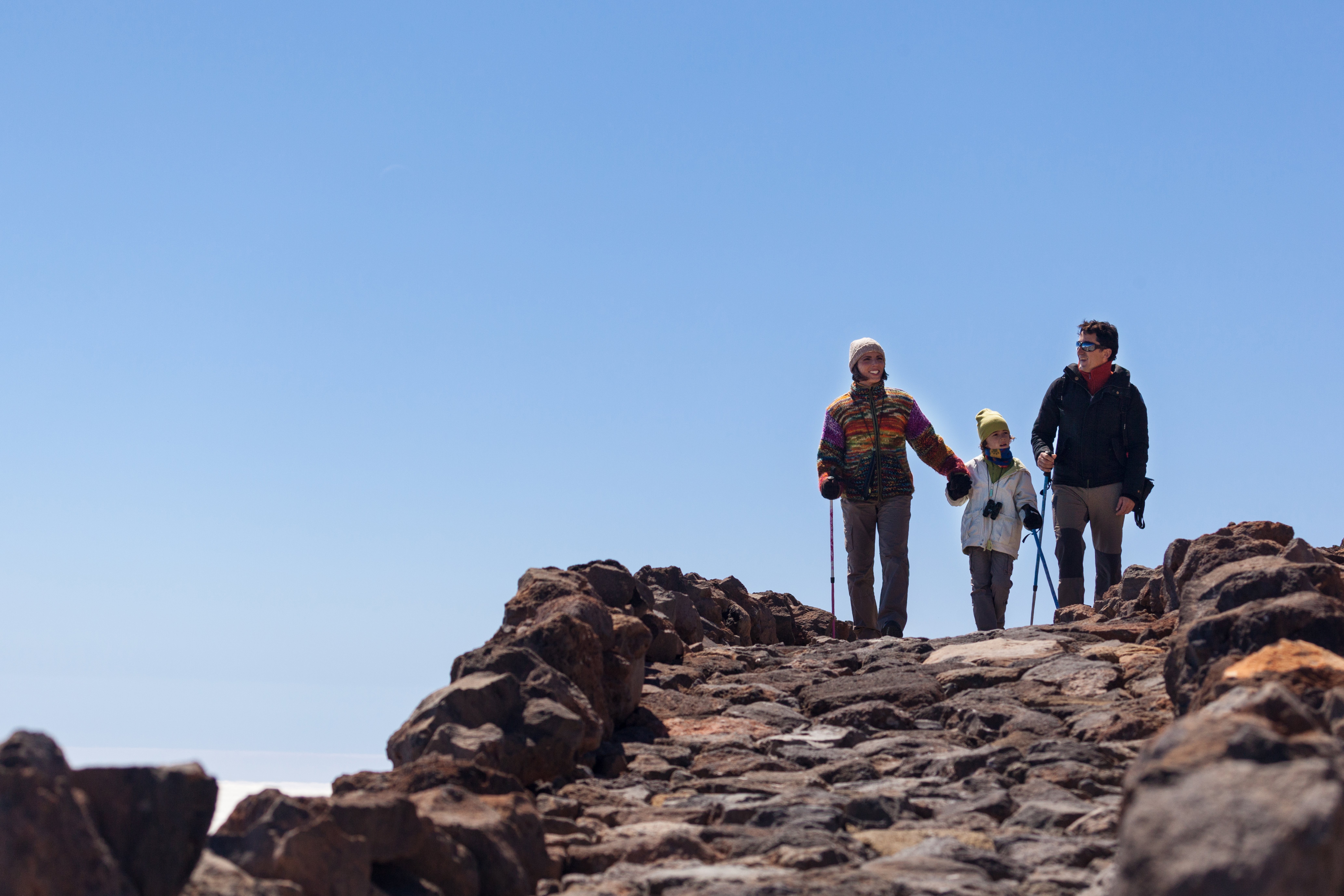 If you are visiting Teide with children, do not miss out on these plans.

Visiting Teide with children over five years old
If your children are five years old we recommend these two activities:
#1 Teide for families
The experience starts with the cable car, which takes you to the upper station on an 8-minute journey that the little ones will love.
After arriving you will take a route unlike any other, because you will be walking on an active volcano, passing next to fumaroles where you can warm your hands up and paths where lava once flowed not that many years ago.
At all times you will have an audio receiver, through which your guide will explain why the fauna and flora, and geology, make the Nature Reserve a unique location on the planet.
The route ends at the Pico Viejo viewpoint, where you will have a crater of 800 metres in diameter at your feet. From there, you will see the colourful horizon, one of the most beautiful views in Europe.
Can you think of a better moment to take a family photo than with the Atlantic and the islands of La Gomera, El Hierro and La Palma in the background?
#2 Visit to the Teide Observatory for families
When you arrive at the Teide Observatory your guide will be waiting to welcome you and introduce you to the fascinating world of astrophysics.
Who said that this science was only for physicists and engineers? No way! This guided visit is designed so that even the little ones can enjoy the world's largest solar observatory.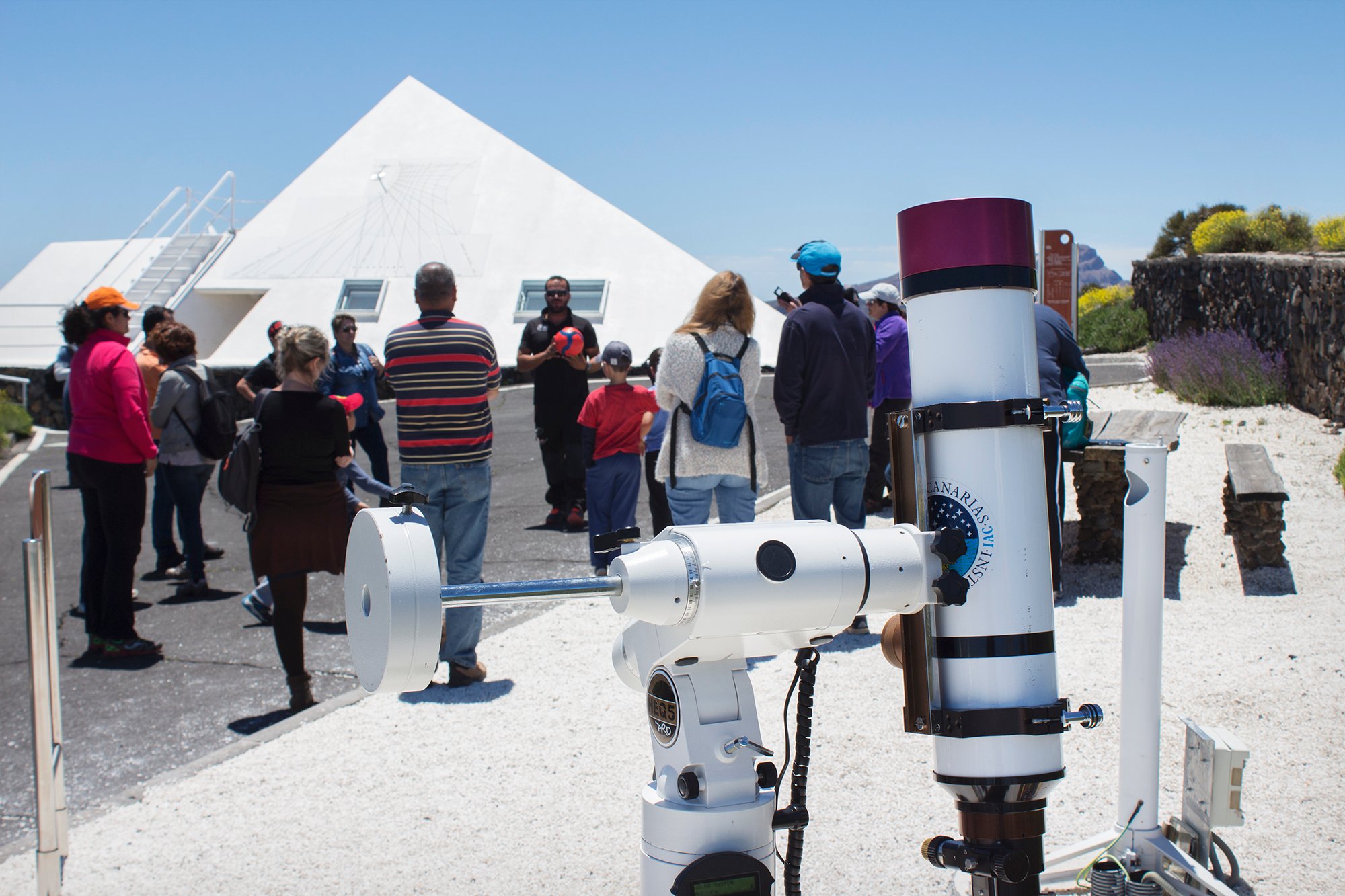 The tour will start with a brief introduction on the importance of Tenerife's sky, the impressive telescopes in the Observatory and the projects that the researches are working on, followed by a simple but entertaining astrophysics workshop and that the adults will enjoy as much as the children. Teide's scientific heritage, in your hand.
Finally, the moment that will leave your children speechless. You will look through high-powered lens telescopes and see sunspots and solar flares in great detail, an amazing spectacle that you will be able to talk about as a family during the rest of your trip in Tenerife.
Visiting Teide with children over eight years old
Are your children a bit older? If they have already reached eight years of age, we recommend the following Teide experience, which takes place in the evening:
#3 Astronomical observation with the family
This experience will allow you to travel across the Universe with your children. It takes place at nightfall by the cable car's base station.
All you need to bring is your curiosity, desire to have a good time and something to keep you warm. Telescopes, guides and the vastness of the night sky will be waiting for you. This is not just any sky, this is Tenerife's sky seen from Teide, considered the best location on the planet for stargazing together with Hawaii and Chile.
This is the setting where the observation takes place, which as well as seeing an endless number of celestial bodies in high definition will allow you to ask our guides any questions you may have; they will help you find all the secrets hidden in the Universe.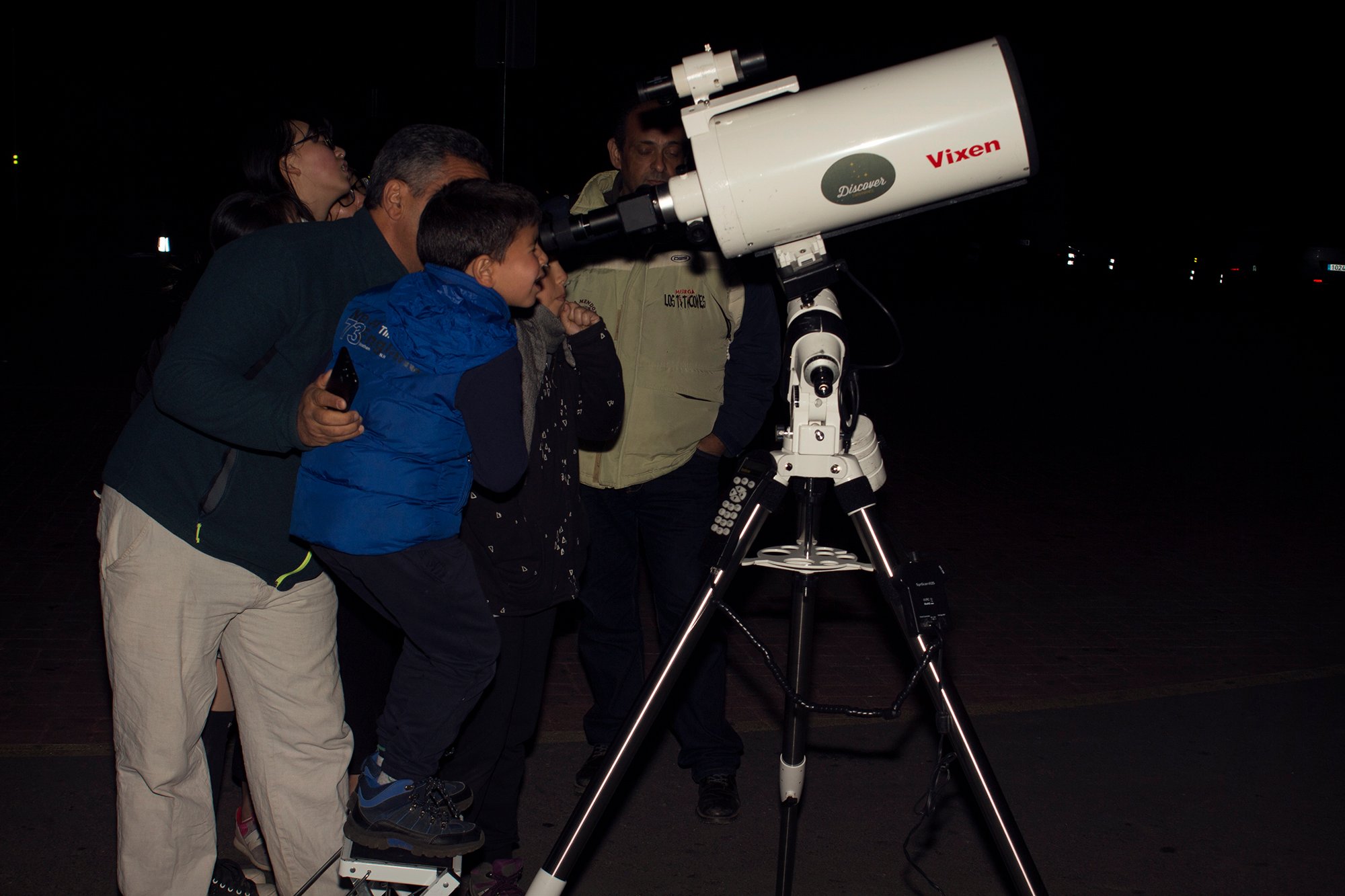 If there is a full moon on the night you decide to go to Teide, you will be able to see the craters, mountains and landforms on its surface. With the help of the telescopes you feel as though you were standing tight on it.
Visiting Teide with children can turn into a wonderful experience just like this one and at Volcano Teide Experience we would like you to feel closer as a family than ever with the help of the starry sky, enjoying a unique observation only available to a few on the planet.
Going to Teide with children has never been so interesting
As you can see, if you are planning a trip to Tenerife with children, Teide must be one of your main places to visit. It is a magnificent opportunity to spend time with the smallest members of the family, create stronger ties and feel closer to them than ever.
The activities also take place in a unique natural environment, where the whole family will have a great time feeling part of a volcano with an important natural heritage. Not only will you enjoy the experience, you will also enjoy the views from the lookout points that you will come across along the way. If you want to find out about more available options, here they are.
Do you want to check out our calendar of activities?
We finish by sharing with you our visual activity calendar. Here you will find some alternatives to what we have offered you, as well as useful information to help you finish planning your visit to Teide with your children.