Who said Mount Teide was no place for little ones?
It couldn't be further from the truth!
Just because Mount Teide is the tallest mountain in Spain and has one of the highest altitudes in Europe, people often think that the National Park is solely for adults. But that isn't the case, as you'll see below.
Is Mount Teide for kids? Yes! Visiting the volcano is possible and a great activity for the whole family.

Mount Teide for kids: when you visit, you'll...
Strengthen family bonds: There's nothing like a different experience that's fun for everyone to make you feel closer to each other than ever before.
Earn their gratitude: Because when you visit Mount Teide with children and they discover what the National Park has to offer, they'll feel very lucky.
Surprise them: After riding the cable car and reaching the upper station at an altitude of 3,555 m, they'll be thrilled to learn that they're at one of the highest points in Europe. And there are plenty more surprises for them!
Experience a family adventure: You can easily drive your car up to the cable car base station and enjoy the route and viewpoints. A totally private family excursion before reaching the highest part of the National Park.
You'll all learn something: Mount Teide is a genuine treasure trove. Its skies, the cable car, landscapes, trails, the observatory... The natural and scientific heritage of this volcano is an amazing learning experience for everyone.
Mount Teide for kids—it really is for all the family! And yes, it's very easy to visit Mount Teide with children, thanks to the experiences that we're going to describe below.
We've divided them into two groups: day experiences and night experiences.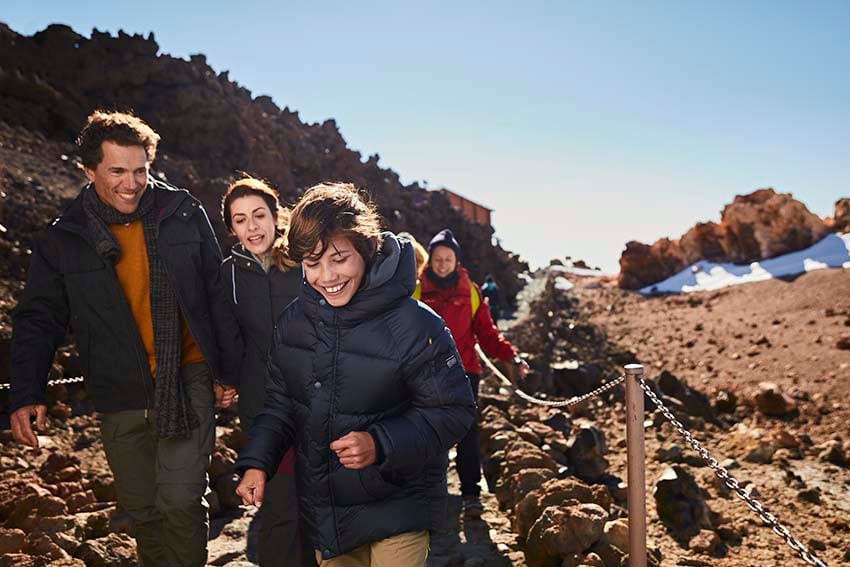 Things to do on Mount Teide with children: daytime experiences
There are four experiences to enjoy when you visit Mount Teide with children.
Ascend Mount Teide with children (5 years old and above)
This experience takes you from the base station to the upper station, La Rambleta, by cable car on an 8-minute journey that will drive kids wild with excitement.
How does it feel to soar over the slopes of a National Park that's also a UNESCO World Heritage Site?
When you try it for yourselves you'll reach the upper station at an altitude of 3,555 m and set off with an official National Park guide and physical trail map to the viewpoint of the Pico Viejo volcano.
You'll have a fantastic time along the way: In addition to the guide's explanations, children can warm their hands over the fumaroles on either side of the path, a reminder that Mount Teide is still active.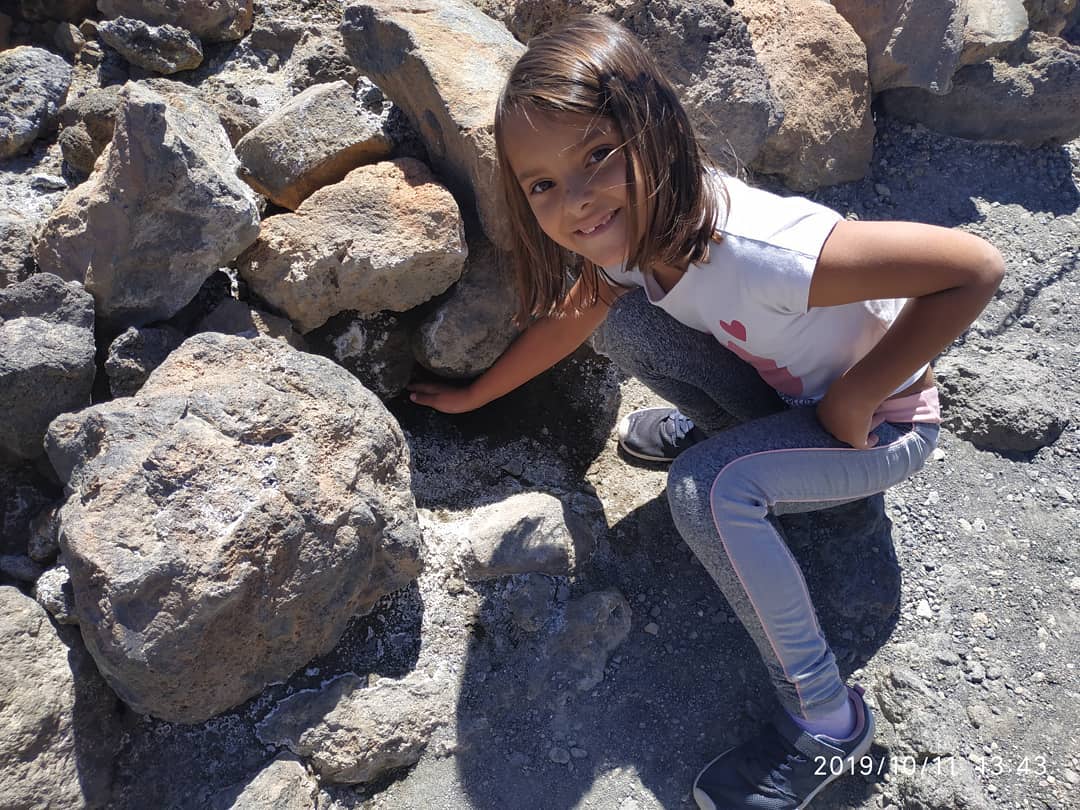 At the end of the trail, you'll enjoy spectacular views of the colourful crater of the old Pico Viejo volcano and the islands of La Gomera, El Hierro and La Palma.
Here's an example of this experience:
Did you like it? And above all: can't you just picture the kids getting excited about it? We're waiting for you!
Teide Tour and cable car (3 years old and above)
An excellent way to enjoy a totally care-free visit to Mount Teide because it includes transport in a comfortable vehicle for small groups. Definitely an option to consider, and we'll explain why:
We know that travelling in your own car can be very comfortable too, but the National Park is a protected natural space and there are a limited number of places to park in the area. If you go by car, you're contributing to vehicle congestion and it could be hard to find a parking space, but if you choose our comfortable transport, you'll be spared all the hassle.
Also, you'll be joined by a guide in the vehicle who will accompany you throughout the experience, so if you're not driving you can pay attention throughout the journey and ask him or her whatever you want.
When you reach the base station, you'll ride the cable car and then be able to enjoy the viewpoint from La Rambleta with its views of the Siete Cañadas del Teide, before following one of the trails that leave from this point: the trail that leads to the Pico Viejo viewpoint and the La Fortaleza trail.
The first trail ends with a panorama of the Atlantic Ocean and the islands of La Gomera, El Hierro and La Palma; on the second you'll see the spectacular mountains of Anaga and the north side of the island. Which do you think the kids would like most?
Visit the Teide Observatory with children (8 years old and above)
Teide Solar Observatory is the largest of its kind in the world.
You might think... So what? Well: did you know that Teide has one of the best skies on the planet for stargazing, along with Chile and Hawaii?
That's right: and that's why the observatory carries out all kinds of research and astrophysics projects. On this experience you can learn about it all first-hand.
Your guide will tell you about the projects of the Canary Islands Institute of Astrophysics, the Observatory's telescopes and how they work, you'll go inside a nocturnal telescope with a fascinating history, take part in an astrophysics workshop and do a day observation with portable solar telescopes.
Science, science and more science: The scientific heritage of the volcano is in your hands with an activity that will delight children—and is free for under 16s.
If you'd like the whole family to be enticed by the science behind this important solar observatory, click below and take a look:
Cable car tickets with audio guide (3 years old and above)
This option is perfect for independently exploring one of the trails that start from the upper station with information about the route, even if it isn't provided by a guide in person.
Discover the marvels of the trail at your own pace as you head towards the Pico Viejo viewpoint or to La Fortaleza. Both are free access trails and if you have a permit to access the crater, you'll also be able to take the audio guide with you to the highest point in Spain. All you have to do is book cable car tickets + audio guide.
It's that easy!
Here's a sample of the audio guide.
When you book an audio guide, you'll also be given a gift: full printed guide of all the trails that are available from the top station, so you can choose which to do more easily, complementing the information you hear with what you read.
Find out more about how to upgrade your cable car tickets to premium.
If you've made your decision and want to do one of these trails independently, book your tickets here and don't forget to choose tickets with audio guide:
Visit Mount Teide with children in the afternoon / at nightfall
There are plenty of activities on Mount Teide for kids—loads! There are even sunset activities.
Read on to find out more.
Astronomical observation on Mount Teide for kids (8 years old and above)
Sky fans big and small, step this way!
Gazing at the skies of Mount Teide with long-range telescopes at nightfall is always a pleasure, but doing it with children and seeing them have fun raising their eyes to the stars and pointing their telescope upwards makes it better yet.
On this experience you'll be taken to the cable car base station after sunset, where you'll go stargazing as a family and admire the never-ending firmament.
You'll be helped by Starlight guides who won't let you leave with any questions unanswered.
Constellations, planets, myths, science... There's time for it all on this excursion to Mount Teide for kids to enjoy the stars. It even includes a planetarium visit where you can enjoy a preview of the celestial secrets of the volcano.
Cable car and sunset from a spectacular viewpoint (8 years old and above)
Another family activity, this time at sunset.
You'll ascend to the upper station by cable car with an official National Park guide who will share fascinating facts and precise explanations about the trail that leads to one of our favourite Teide viewpoints: the crater of the Pico Viejo volcano.
But wait—that's not all: This cable car journey will be like no other. This time you'll ride it outside of its normal operating hours with a maximum of 90 people. An exclusive excursion to Mount Teide for kids.
This is the same viewpoint that we've described above but there is one big difference. Picture the scene:
You, the children and the guide at an altitude of 3,555 m, all watching the sunset with the shadow of Mount Teide stretching out towards the horizon, Gran Canaria as a backdrop and, at the end of the trail, a huge multicoloured crater that is 800 m in diameter. Pico Viejo offers visitors one of the most beautiful and surreal images of the National Park.
And the best lies off in the distance: The sun setting over the horizon, illuminating the islands of El Hierro, La Palma and La Gomera, adding a touch of magic to views that will astonish even the smallest family members.
If you'd like to be here to enjoy this exclusive sunset up high with your children, click here:
What do you think about our recommendations of things to do on Mount Teide with kids? Can't you just see yourself discovering one of world's greatest natural treasures with your children?
Can you think of anything better?
If you need a hand answering this question, take a look at our weekly activities calendar.
You can view everything that is available to do in this spectacular national park:
And that's all from us for now!
As you've seen, visiting Mount Teide with children can be one of the best things you do during your holidays: A real chance to strengthen bonds, have fun, and discover and learn as a family surrounded by nature and science.
We're waiting for you!