Planet Earth is an exciting place. It has volcanoes several thousand feet high, it has rainforests and deserts, and it has animals and plants which have adapted to habitats ranging from the sea bed to the highest peaks.
Human beings, too, have contributed works of great beauty, such as towns and cities, churches, temples and palaces, that reflect our creativity and our cultural diversity.
The planet's most treasured assets, such as Mount Teide, are recognised by UNESCO
Since the 70s, UNESCO has been compiling a list (the World Heritage Site list) that brings together Earth's most emblematic places. A series of strict criteria is applied in selecting sites for inclusion on the list—only the crème de la crème in terms of natural and cultural heritage can satisfy these criteria.
Famous sites such as the Colorado Grand Canyon or the Great Wall of China are clear examples of the incomparable assets designated as World Heritage sites.
Also present are places like the Hawaii Volcanoes, which have risen from the ocean floor over the course of successive eruptions until they have reached thousands of metres in height; the tunnels formed by lava on the island of Jeju in South Korea and, in the world of culture, Mexico's Camino Real de Tierra Adentro [Royal Inland Route], used down the centuries by both the Hispanic and pre-Hispanic cultures.
Did you know that on Mount Teide, a World Heritage Site in the Canary Islands, you can find elements in common with all these places?
The Teide National Park meets two criteria in order to be awarded World Heritage status
Mount Teide has been a national park since 1954. This status has afforded it recognition and a guarantee of protection for its geomorphological and biological assets, and its scenery.
In 2007, Mount Teide received approval for inclusion on the list of World Heritage Sites, and in the same year that status was granted.
An asset must demonstrate that it meets at least one of the ten criteria defined by UNESCO to be even considered for World Heritage status. Mount Teide was able to meet not just one, but two, of the most important criteria.
So let's see why Mount Teide is a World Heritage Site:
Criterion VIII: "Be an outstanding example representing major stages of Earth's history, including the record of life, significant on-going geological processes in the development of landforms, or significant geomorphic or physiographic features."
Mount Teide is a stratovolcano; in other words, it has been built up by successive eruptions that have over time added strata or layers. This mighty volcano has developed on the site occupied by two previous volcanoes, both of which have long since disappeared.
The last volcano to stand on this site before Mount Teide slid downwards around 200,000 years ago, to form the great Icod valley. It also left part of the walls of Las Cañadas and of the Roques de García as reminders of its existence.
The Canary Islands Teide National Park, a World Heritage Site, also contains other volcanoes, as well as an enormous variety of volcanic material, including black obsidian, glossy obsidian, white pumice, smooth lava streams and other rough rocks known locally as malpaíses [lava fields].
Criterion VII: "Contain superlative natural phenomena or areas of exceptional natural beauty and aesthetic importance."
The staggering beauty of the scenery is obvious to any visitor to this national park, whether seen from the viewing points positioned along the road that crosses the park, from its network of paths, or from La Rambleta, a wide, natural balcony at an altitude of 3,555 metres, which forms the upper terminus of the cable car ride, the Teide Cable Car.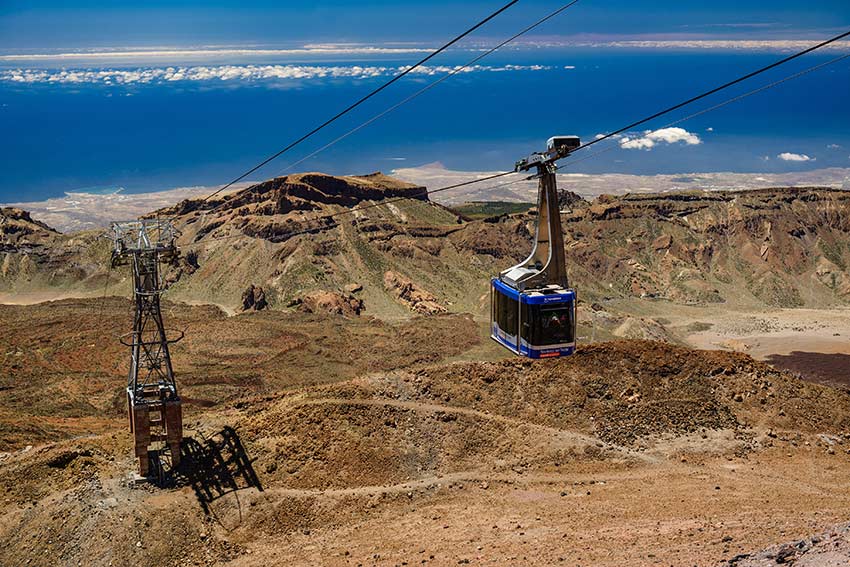 Mount Teide's natural heritage offers even more outstanding treasures
The Teide National Park is home to a unique collection of species.
The volcanic soil, the altitude and the extreme climate mean that many of the plants and animals that survive here are unique (such as the Teide violet, which even grows on the summit itself); pollinating insects that visit certain types of flowers in the park, or unique invertebrates from a particular volcanic cave.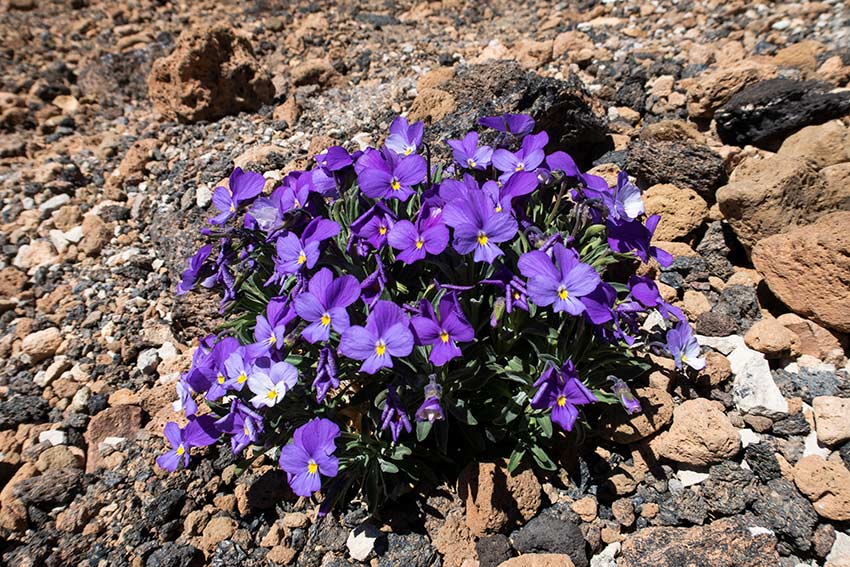 Also in the Teide National Park, there can be found vestiges of Tenerife's past.
For the Guanche people, who inhabited the island before the arrival of the Europeans, the present-day World Heritage Site in the Canary Islands was a sacred place, but also one that ensured their survival, as they would take their flocks onto Mount Teide in summer when pasture on the rest of the island was scarce. Evidence of their activity can be seen in the remains of shepherds' huts, pottery, burial sites, and the centuries-old nomadic drovers' paths and trails.
The most famous of these is the Camino de Chasna, which links the north and south of Tenerife, and which continued to be used for centuries by the island's new inhabitants, for the movement of people, flocks and goods.
All this, and much more, in a space measuring barely 200 km² (18,990 hectares).
The fact that Mount Teide has World Heritage status is a source of pride, but also of responsibility
To qualify for World Heritage status, a place must have outstanding natural and/or cultural value.
It is a great privilege that UNESCO has declared the Teide National Park a World Heritage Site. But we also have a duty to contribute to its conservation. Its rocks may be hard, but Mount Teide is a fragile place.
Simple things we can do to protect it include keeping to the signposted paths, not leaving behind any waste (including organic waste), and not removing any plants or rocks, however small.
Our admiration for Mount Teide should be demonstrated in our commitment to ensuring that it remains a wonderful place forever.
Article by María Mengual, an authority and reporter on our heritage.