Travelling to Tenerife and missing out on visiting Mount Teide is like going to the Eternal City and not visiting the Coliseum.
We know that cable car tickets may generate some doubts among those who visit Tenerife.
This is why today we will try to clear them up, so that you can acquire your tickets for the Teide Cable Car using the method which best adapts to your way of planning holidays and do not leave Tenerife without having flown over lava flows and floated above the clouds.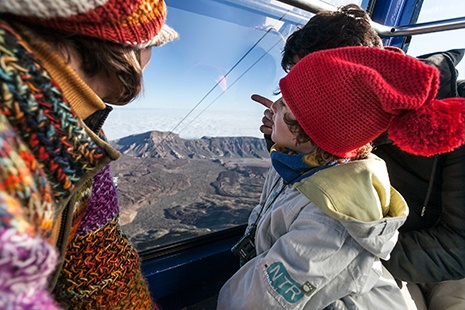 Teide Cable Car tickets for those who improvise while on holiday
That's what you do. You improvise.
You know that you could make the most of your time off during the holiday if you organised a detailed itinerary including everything you want to visit, but deep down you love the magic of improvisation.
You get up in the morning without hurry, you're on vacation after all, and while you're having breakfast you're sorting your thoughts to decide which sites to visit that day.
You end up leaving the hotel very quickly because you have spent more time over breakfast than you intended, you get in the car in a rush and you let your body tell you where to go and what to visit.
And if you're in Tenerife, sooner or later you'll want to go up Mount Teide by cable car. But you don't like planning in advance. You prefer leaving decisions to the last minute.
That's your thing. You head to one place, but then end up taking a detour because you see a road sign that arouses your curiosity and you suddenly decide to change your plans.
The best option for you is to buy your cable car tickets directly at the ticket office.
Bear in mind, however, that the best times of the day to avoid waiting to buy your tickets for the Teide Cable Car are from 9am to 10am and from 2pm to 4pm, so you either get up very early, which you will be too lazy for on your vacation in Tenerife, or you depart at mid-morning, with enough time to make en-route stops along the way and arrive at the Cable Car base station at the right time.
When you arrive at the ticket office, thanks to our new session allocation system, you won't have to queue; furthermore, we will assign to you a specific time at which you will redeem your ticket in the boarding area, so that you can make the most of the waiting time before it's your turn to get on board the cabin by visiting some sites of interest in the National Park.
Even if you don't like planning ahead, the truth is that planning does have some advantages. If you want to know the advantages of buying cable car tickets in advance, keep on reading until the end.
Teide Cable Car tickets for those who organise their holidays down to the very last detail
Some people prefer not to plan anything at all on vacation while others get so excited about the journey that they have everything under control months in advance.
If you are one of those people who plan their holiday to the last detail, the following scenario probably applies to you: your phone is full of travel guides that you have downloaded to read on your way to work; YouTube has been suggesting you to watch videos only related to your vacations for several weeks now; you have installed an app which you're using to plan your itinerary, including en-route stops and visiting hours; and you have a folder filled with booking confirmations of all the experiences that you will enjoy while on vacation.
Because when you're on vacation, you want to make the most of each and every minute of your time off.
Your next destination is Tenerife and since time is money, you need to set a date to go up Mount Teide by cable car, and a specific time too.
You will be happy to know that you can buy your tickets for the cable car without any queues.
The process is very simple:
Enter our website and search for the Cable Car experience. Did you know that you can also

enjoy the Cable Car at sunset and other experiences featuring stargazing with the Cable Car?
Select your preferred type of tickets for the Cable Car:

a round trip ticket, a one-way ascent ticket or a one-way descent ticket (the latter does not allow to choose a time slot).
Select the date for which you want your Teide Cable Car tickets.
We will show you all the available boarding times divided into 10-minute intervals.
Add the number of passengers to calculate the price for the number of Cable Car tickets you need and click the "Buy" button.
Fill out the form, pay the amount and

receive your tickets for the Teide Cable Car directly in your e-mail inbox.
Once you have received your Teide Cable Car tickets, you just need to arrive at the base station a reasonable time in advance depending on the time slot you had chosen. You must be at the boarding area 20 minutes before your booked session.
Why? Well, because if you arrive by car, you will need some time to park in order not to arrive late to the boarding area.
It is not necessary to print your Cable Car tickets. You can show your Online Ticket displayed on the screen of your phone. We only ask you to open the file before approaching the ticket office so as not to slow down the queue.
That's it! From here, you can access the cabin directly, without passing through the waiting room (which you may use whenever you want; it offers free Wi-Fi, among other things) and start flying over breathtaking lava flows which you will fall in love with again and again.