When you are on holiday in Tenerife, every minute counts. Especially, if you are planning on visiting Mount Teide, which, as you know, is Europe's most visited National Park, with over 2.5 million visitors each year. It is also ranked in the top ten most visited national parks in the world.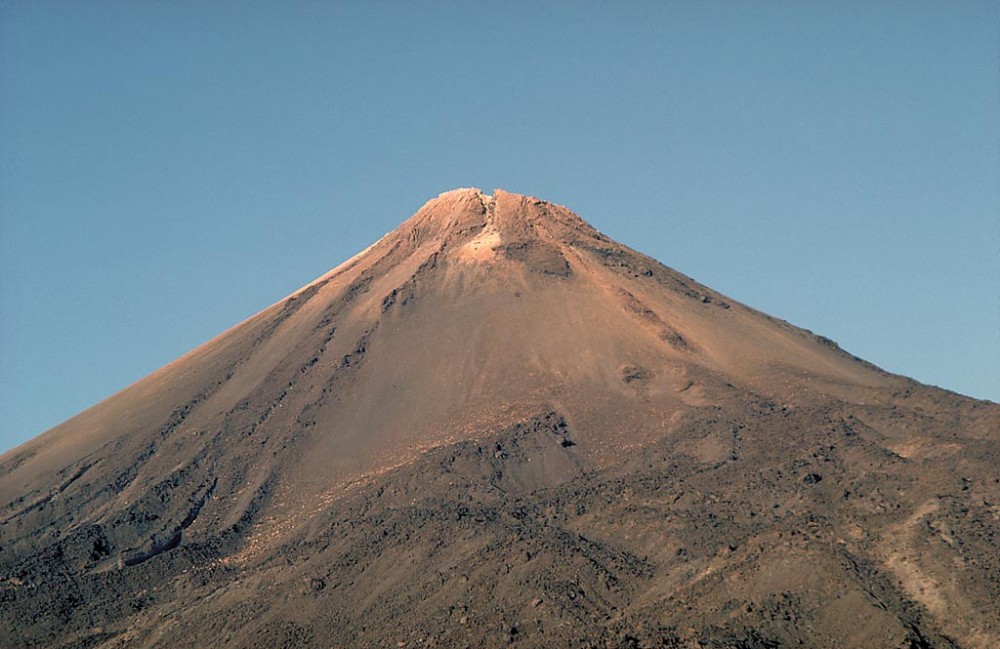 And because we understand that you would not want to leave the island without having enjoyed the magnificent views that Spain's highest peak offers every day, we have created some graphs showing which days and times of the week are best to go up Mount Teide by cable car. This is so you can avoid the crowds, especially during the summer when there is a huge influx of visitors.
When is the best time to visit Mount Teide by cable car
This is the million-dollar question, but you have probably already read previous visitors' comments and different pieces of advice on-line.
And perhaps you are rather dubious and have no idea when to go up Mount Teide by cable car because you have read all types of reviews.
There is no need to worry, that is where we come in.
We have done an in-depth analysis of the influx of visitors during the summer period to develop these graphs, which show the best days of the week and times of the day to visit Mount Teide with us. We have also made it easier for you to plan your holiday to the island. Now you can decide the best time for you to visit Mount Teide by cable car, in order to make the most of your visit to the volcano. Therefore, you will not waste a minute of your holiday on the beautiful island of Tenerife.
We are confident that this information will be very useful to you when you plan your Mount Teide visit. Furthermore, you can also combine it with an Online Ticket, which would save you a lot of time on your visit to the third highest volcano in the world.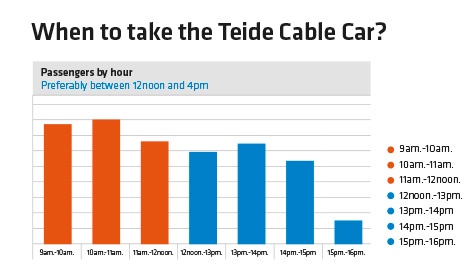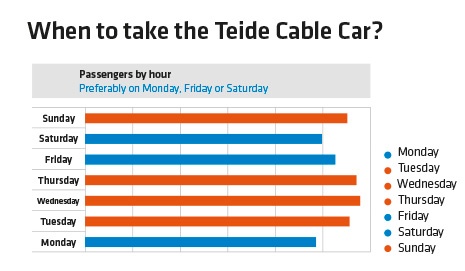 You already know that the best days to ascend Mount Teide by cable car are Mondays, Fridays and Saturdays, and the best times are from midday to 4.00pm.
The Teide Cable Car has a new Online Ticket system, where you do not have to queue
In the middle of June, we launched our new Online Ticket system, with one clear vision; we wanted to ensure that our visitors spend less time queuing and more time enjoying the beautiful walks and stunning views at the summit of Mount Teide.
Our new Online Ticket system only allows to purchase tickets online and not at the ticket office, although sessions are assigned to passengers who buy their tickets directly at the ticket office.
Find out how to take advantage of all the benefits included in the new Online Ticket system.
So, what day and what time will we see you in the cable car to the top of Mount Teide?