Want to know where you can enjoy a delicious lunch on the day of your Teide visit?
Remember that lunch is purchased in the restaurant itself, with no need for prior booking. You can see the prices on the restaurant menu.
The perfect complement to your visit to Mount Teide
We offer an exclusive lunch in the superb setting of the Teide National Park. A menu with a distinctive Canary Island flavour awaits you in our panoramic restaurant at the cable car base station.
Complement your Teide experience with truly mouthwatering signature cuisine.
What could be better than relaxing, surrounded by spectacular views of the National Park, whilst recharging your batteries with this special lunch, either before or after your cable-car visit to the volcano?
We have a great idea to help you make the most of your National Park experience. For a truly unforgettable excursion, we recommend you select from the following options:
1. Book a cable car ticket that includes a guided tour to the Pico Viejo Viewpoint, where an expert guide will tell you all the secrets of Mount Teide.
2. Book cable car tickets that include our audioguide, so that you can make your own way along the volcano's free access paths, and at your own pace, whilst learning about the geography and geology of Spain's highest peak.


Book your ascent to Mount Teide by cable car
Before or after your cable-car ascent of Mount Teide, visit our restaurant and enjoy a mouthwatering lunch before continuing to enjoy the delights of the National Park. A real bonus on your visit to Mount Teide!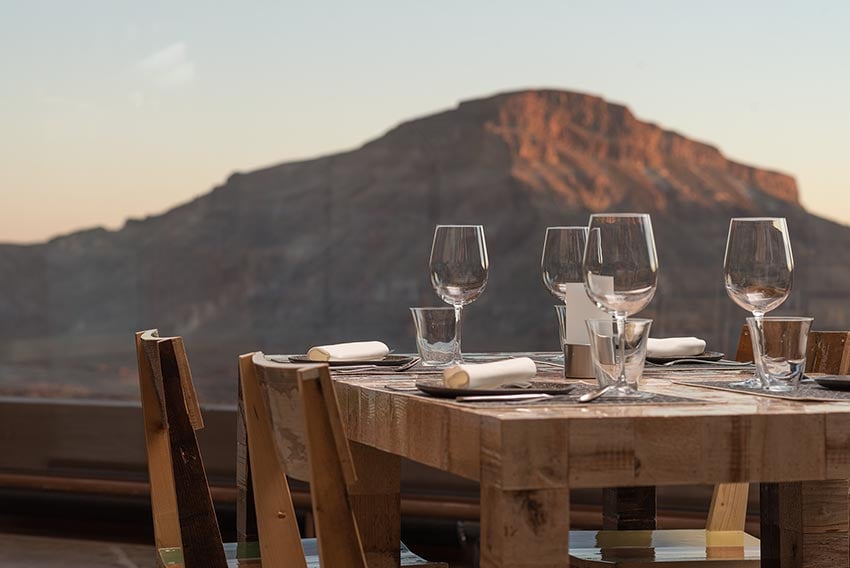 A panoramic restaurant with the finest views in Tenerife
The Teleférico del Teide panoramic restaurant was specially designed with the aim of sharing with customers the very best gastronomic experiences that the island of Tenerife can offer, all in the extraordinary setting of the Teide National Park.
Its enormous windows transform our restaurant into a privileged viewing point from which you can gaze at Las Cañadas del Teide while you enjoy a lunch prepared from the island's finest ingredients—either before your cable car ride up Mount Teide or after your experience at the peak.
You will be pleased to know that we have a firm commitment to the archipelago's fishermen and small-scale agricultural and livestock farmers, who supply us with fresh, natural products for our catering needs.
Our snack bar and restaurant menus showcase a vast range of ingredients used in traditional Canary Island cuisine.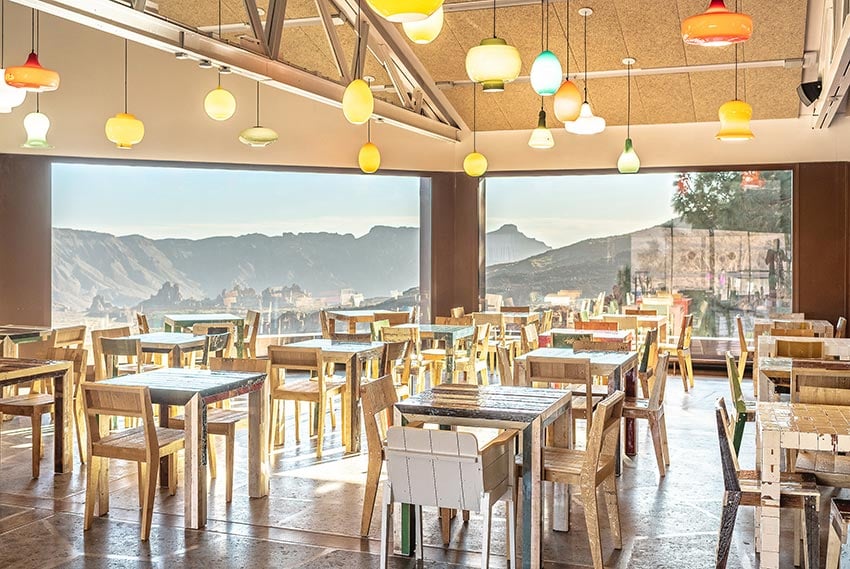 All this is made possible by a full team of professionals led by our superb Chef, Josué Mendoza, who has created an attractive and innovative gastronomic offer so that you can enjoy the characteristic flavours of our typical dishes, but with an added, distinctive twist that is sure to both surprise and impress you.
Complement your cable car trip on Mount Teide with an appetising lunch in Spain's highest restaurant. It will make your experience in the Teide National Park one you'll never want to forget!
Book your Teide Cable Car ticket now
Teide Cable Car restaurant opening times
By now you must be wondering when you can enjoy this wonderful lunch. So let's put an end to your uncertainty:
The cafeteria is open Monday - Sunday from 9.00am to 4.45pm.


Lunch is served Monday - Sunday from 12.00noon until 3.00pm in summer, and from 12.00noon until 2.00pm the rest of the year.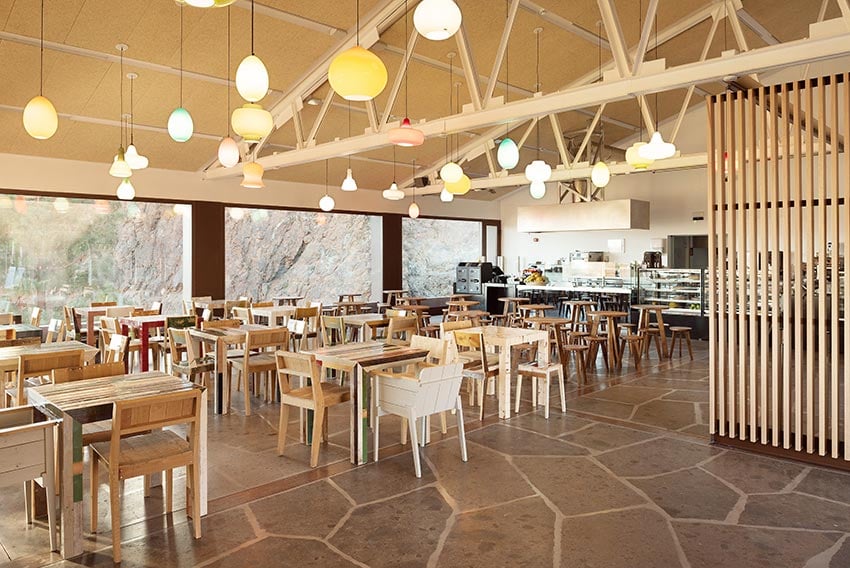 A lunch with a difference to round off your visit to Mount Teide and your cable car ascent
Of course, you're keen to know what's on our gastronomic lunch menu. So we're going to give you full details of the dishes available, listing the fabulous local ingredients that go into their careful preparation.
On this gastro menu inspired by Mount Teide, you will find 4 different, but equally delicious, dishes.
SALAD OF GRILLED CHEESE, PASSION FRUIT VINAIGRETTE AND SEEDS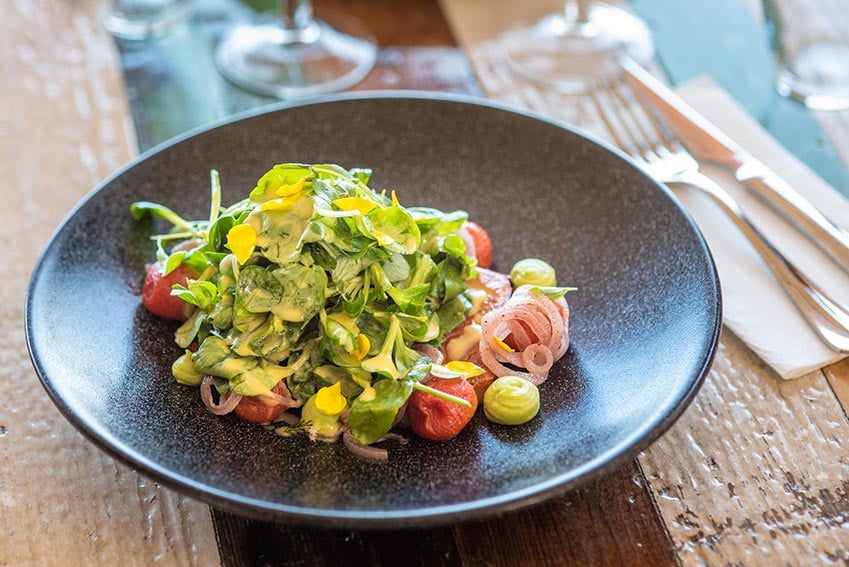 A succulent, refreshing salad made with locally sourced lettuce and watercress, grilled local smoked cheese, semi-sec cherry tomatoes, onion in a red wine vinegar, avocado with a passion fruit vinaigrette, ginger and poppy and flax seeds, among others. Maximum freshness!
ALLERGENS: dairy, sulphites. May contain traces of gluten. May contain peanuts or tree nuts.
TELEFÉRICO DEL TEIDE-STYLE EGGS WITH PIERCED YOLKS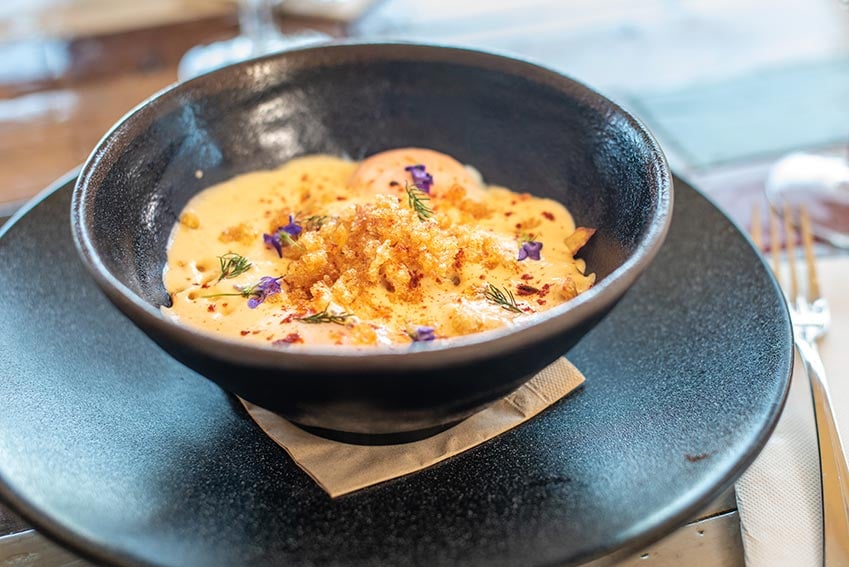 The perfect way to reboot your energy levels, this dish contains Canary Island-style spiced local potato wedges in their skins, slow-cooked eggs, fried egg white, potato foam and the famed Teror chorizo.
ALLERGENS: eggs, dairy, nuts.
CANARY ISLAND TUNA STEAK, BOILED MOJO SAUCE, BABY CANARY ISLAND OLD POTATOES AND MASHED SWEET POTATO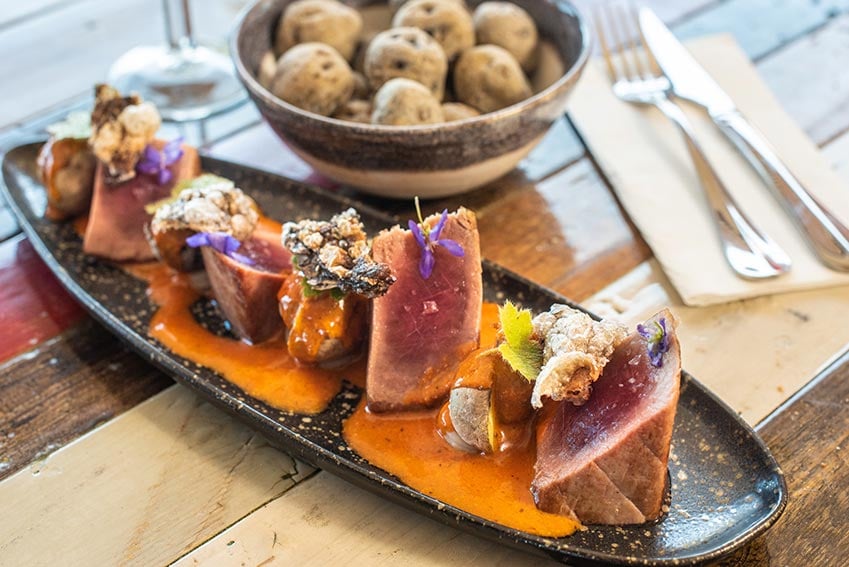 Any lover of fish will be thrilled to try this seasonal tuna from the waters around the islands. It is served with traditional, boiled, Canary Island mojo sauce, old wrinkly potatoes, and mashed yellow sweet potato—a dish made with local products that cannot fail to please.
ALLERGENS: fish, sulphites.
FREE-RANGE, BONED CHICKEN LEG, SUN-DRIED TOMATO MOJO SAUCE, CHEESE, AND RETAMAS DEL TEIDE HONEY WITH BABY VEGETABLES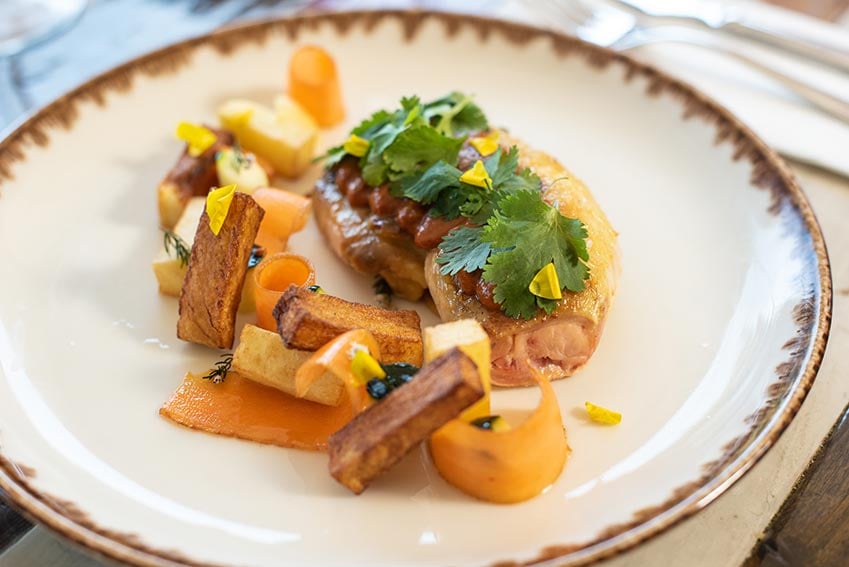 The chicken is from our neighbouring island. This slow-cooked chicken leg from Gran Canaria is served with a sun-dried tomato mojo sauce, matured cheese from Fuerteventura, Retamas del Teide honey, and 2 or 3 types of baby vegetables (organic and locally sourced), individually seasoned. A nod to the unique flavours of the Canary Archipelago!
ALLERGENS: sulphites, dairy. May contain celery, shellfish, and fish.
"Haute cuisine is an art form."
You'll find the proof in the following video that we suggest you watch, which shows Chef Josué Mendoza at work preparing these incredible dishes. You'll be mesmerised by his skill and dexterity!
So have you decided on your choice of dish for the day you visit Mount Teide? Remember that lunch is purchased in the restaurant itself, with no need for prior booking, and can be enjoyed Monday - Sunday from 12.00noon until 3.00pm in the summer, and from 12.00noon until 2.00pm the rest of the year. You can see the prices on the restaurant menu.
And to complement your lunch on Mount Teide, don't forget to book your cable car ticket with a guided tour to the Pico Viejo Viewpoint, or our audio guide of the trails, to add value to your visit, and then round off the day with a wonderful lunch.
Book your ticket for the cable car now
We hope you enjoy your visit to the Teide National Park!