When you visit Tenerife, you won't want to miss one of its most popular destinations: Puerto de la Cruz. This is where tourism in the Canary Islands originated, and it has a wealth of attractions for a great stay.
So, if you want to find out what to do in Puerto de la Cruz, don't miss these recommendations for this city that will welcome you with open arms, and which will serve as a base for visiting the island's most iconic sights, such as the Teide National Park.
Book the best excursions to Mount Teide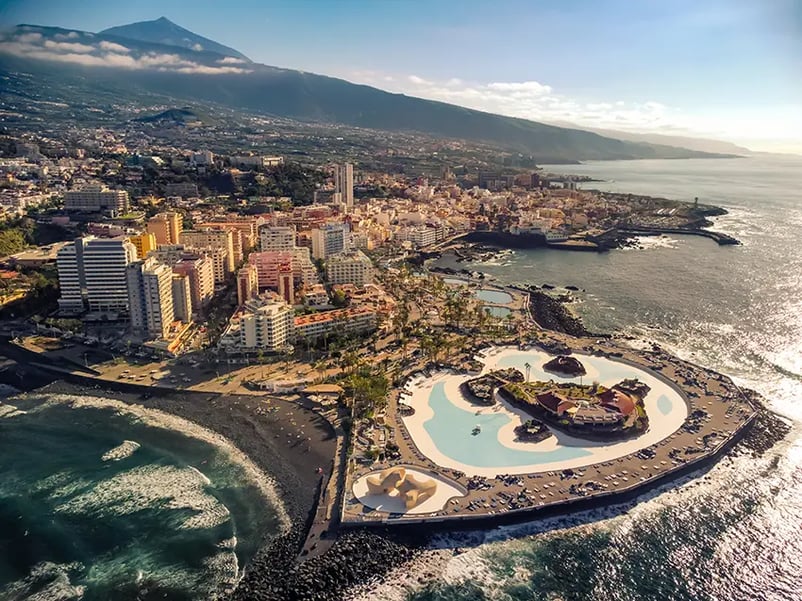 Puerto de la Cruz es uno de los centros neurálgicos del turismo en Tenerife. Y no es de extrañar, puesto que esta ciudad situada en el norte de la isla acoge a los visitantes y los agasaja con un clima envidiable y la belleza de una costa labrada a base de mar y lava.
Few views are as idyllic as that seen from the TF-5 when the motorway turns down into the Valle de la Orotava, with Mount Teide surging up on the horizon like an all-seeing god. So if you're wondering what to visit in Puerto de la Cruz, don't miss the tour from east to west that we tell you about below.
Book the best Tenerife excursions
1. The Botanical Gardens—a not-to-be-missed attraction in Puerto de la Cruz
− In Calle Retama, 2.1 km from the Plaza del Charco.
One of the top things to do in Puerto de la Cruz is to enjoy the natural world, as the Orotava valley is a veritable orchard where you can find all kinds of discreetly beautiful native plants.
And although many travellers would consider this port city a completely urban destination, it does boast a natural treasure: the Jardín de Aclimatación de La Orotava, better known as the Puerto de la Cruz Botanical Gardens.
The gardens' original name gives a clue as to their age, as for a long time this burg was known as the Port of la Orotava.
The gardens were opened on 17 August 1788, and were inspired by the interest of King Charles III, who died before the work was completed. Since then, the Botanical Gardens have been an emblem of the city. A walk along their paths brings a breath of relaxation, not only for tourists but for anyone who visits them.
In an area of over 20,000 square metres, you will find over 4,000 plant species—all carefully labelled. The scene is enhanced by the sound of birdsong and of the water trickling through the fountains and ponds. A genuine haven of peace to be enjoyed at leisure.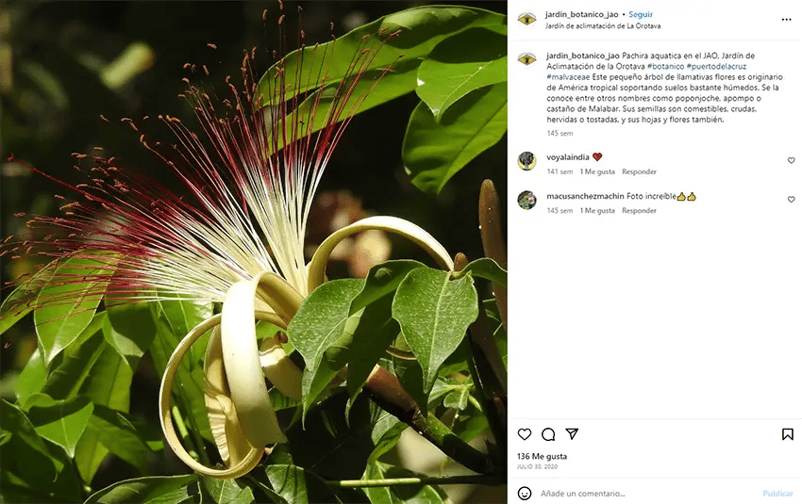 2. The La Paz viewing point
− On the Paseo de la Costa, 1.6 km from the Plaza del Charco.
Although the best views of Puerto de la Cruz and the Orotava valley can be seen from the Mirador de Humboldt viewpoint, within the city a superb panorama is offered by the Mirador de la Paz, which you will find on the Martiánez cliffs.
From here, you can get a more definite idea of the things to see in Puerto de la Cruz, as this view also inspired the legendary writer Agatha Christie to write one of her mysteries: "The Mysterious Mr Quin". Moreover, if you're a fan of her novels, you can have your photo taken next to a statue placed here in her honour.
3. San Amaro hermitage
− In Calle Castaño, 1.6 km from the Plaza del Charco.
Once you've visited the Mirador de la Paz, don't miss the chance to see the nearby San Amaro hermitage, which is Puerto de la Cruz's oldest religious building. Built in 1591 in an unadorned architectural style, it became a place of pilgrimage every year on the 15th of January, the date of the festival in honour of the saint after whom it is named.
Once there, make sure you go in to see some of the hermitage's treasures, including a carving of Nuestra Señora de la Paz and a number of Mexican paintings.
4. Martiánez beach
− In Avenida de Cristóbal Colón, 1.2 km from the Plaza del Charco.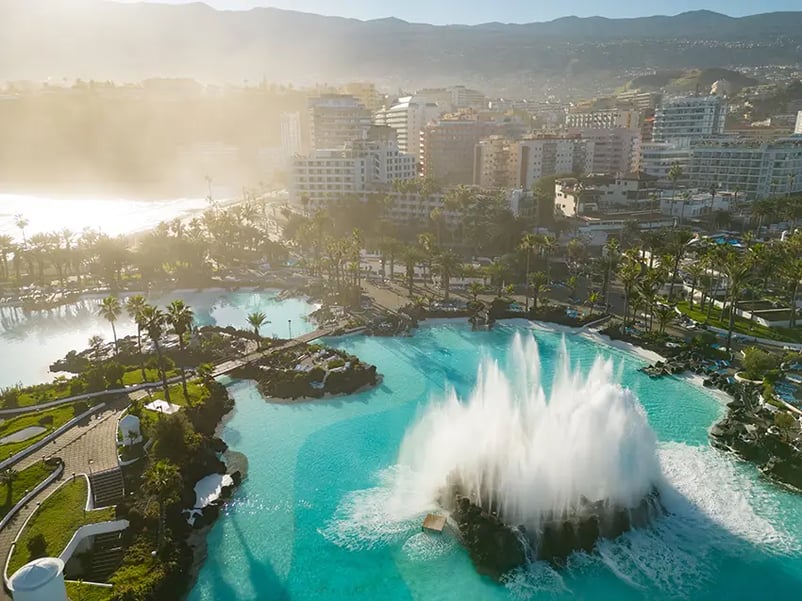 Like the great majority of Tenerife's beaches, this one under the Martiánez cliffs is made up of black sand and pebbles. It is 350 metres long, and attracts all kinds of bathers, as it is situated opposite some of the largest hotels in Puerto de la Cruz. It is also a favourite haunt of surfers, who have an area specially adapted for their sport.
As you can imagine, this means that at times the waves are very powerful, so you are advised to take care when these conditions prevail.
5. Lake Martiánez
− In Avenida de Cristóbal Colón, 1.2 km from the Plaza del Charco.
Next to Martiánez beach stands this leisure complex with spacious swimming pools, whose construction was a pioneering project on the island. The swimming pools are the leisure complex's main attraction, and a typical scenario when we talk about things to do in Puerto de la Cruz. It covers an area of 100,000 square metres, and includes not just bathing areas but terraces, restaurants and beautiful gardens as well. Nevertheless, the outstanding quality of Lake Martiánez is the beauty of the lake itself, created by the genius César Manrique, and a Canary Islands icon.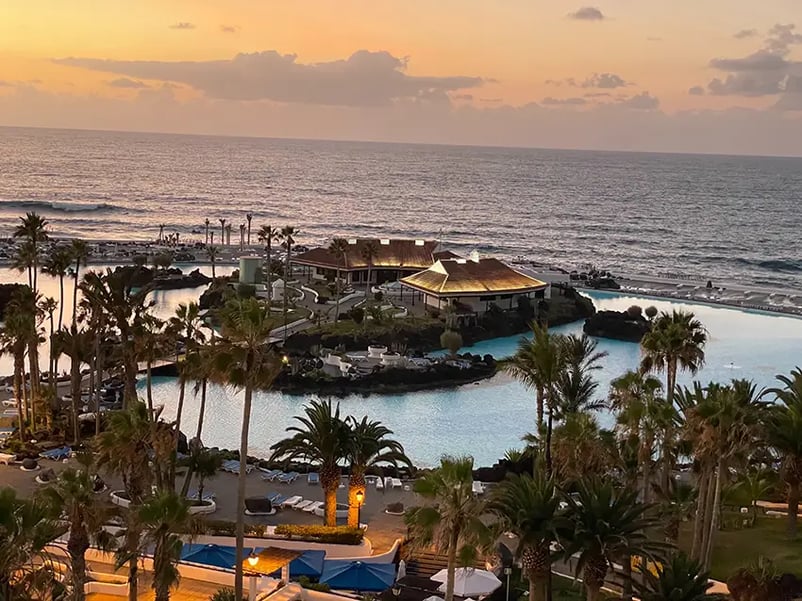 Around the lake, you can find three bathing areas:
The San Telmo swimming pools, located in the west, near the hermitage of the same name.
The Los Alisios swimming pools, whose rounded shapes are formed by natural rock formations which complement the local flora.
El Lago, the most famous area, thanks to its spectacular design and its scale.
Without a doubt, this is the perfect place to spend a day, enjoying unique moments such as going for a dip with a view of Mount Teide in the distance.
In fact, it's a good idea to round off your day spent relaxing in the waters of Lake Martiánez with a guided excursion of Mount Teide by night. There, you can enjoy the sunset and the stars in a place which has no light pollution.
Book your stargazing excursion on Mount Teide

6. The San Telmo hermitage and beach, two things to do in Puerto de la Cruz
− In Calle San Telmo, 650 metres from the Plaza del Charco.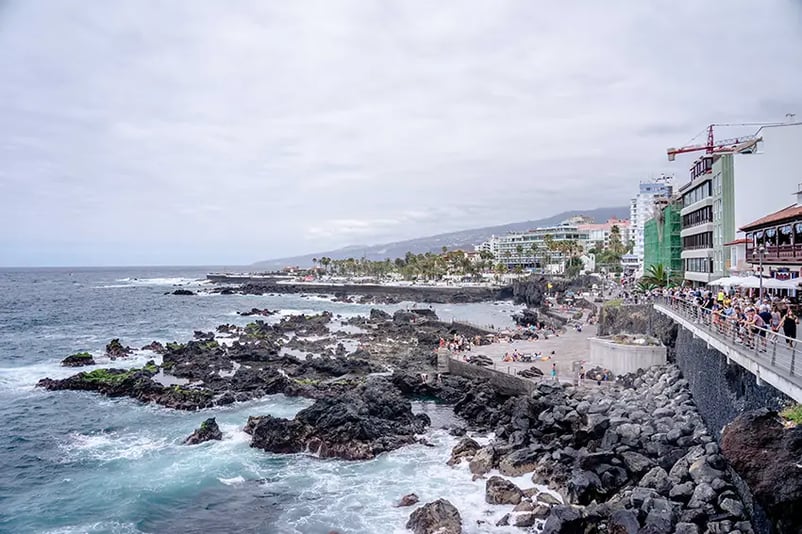 San Telmo is the patron saint of sailors. That is what gave this hermitage its name, just like the beach close to the cliff where the hermitage has stood since 1780.
San Telmo hermitage
The hermitage was founded in the late eighteenth century, and could pass unnoticed as you walk along the seafront promenade, where the shops and tourists attract most of the attention. Make sure you don't make the same mistake, because this is one of the top things to see in Puerto de la Cruz, for two reasons.
The first reason is the hermitage's cultural wealth, as inside there is an image of San Pedro González Telmo that dates from the time when this Catholic church was built. And the second is its exquisite beauty, as this small, rectangular building stands on a little cliff, surrounded by gardens.
San Telmo beach
Below, you will find one of the busiest bathing areas in the city. Here there are natural pools and a small area of black sand and charcoal measuring barely 20 metres. So, if you don't know what to do in Puerto de la Cruz, don't hesitate—head straight for San Telmo beach.
7. Iglesia de la Peña de Francia
− In the Plaza de la Iglesia, 250 metres from the Plaza del Charco.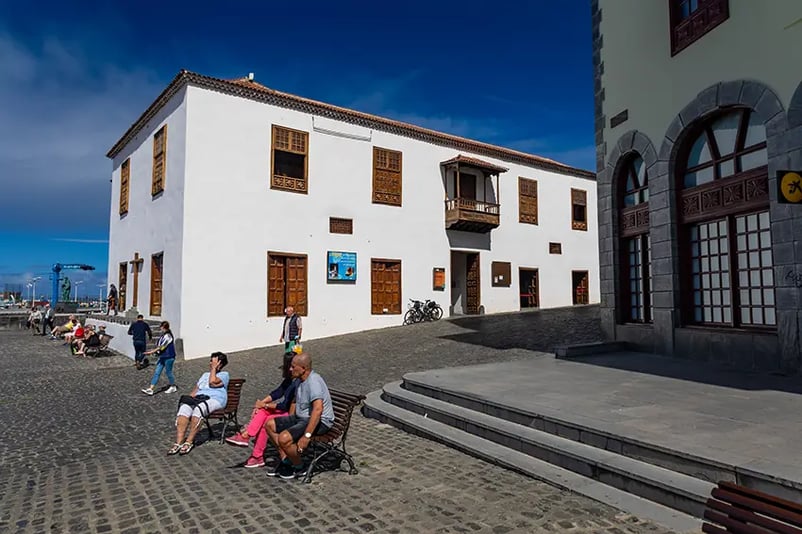 Continuing our tour, we leave the Paseo Marítimo, and make our way to the Iglesia de la Peña de Francia, the city's most important Catholic church. Inside are images of the Gran Poder de Dios [Great Power of God] and Virgen del Carmen del Puerto de la Cruz [Virgin of Puerto de la Cruz], as well as paintings by Luis de la Cruz y Ríos and Manuel de la Cruz.
Another highlight of the church is its exterior; it was built in 1684, and remodelled with a central tower in 1898. The church stands on the square next to a landscaped area with tall trees. And if by day the building's greyish tones contrast with the green of the plants, the lighting creates one of the loveliest scenes of the city when night falls.
Book your excursion to Teide from Puerto de la Cruz
8. Plaza del Charco
As you may have noticed, in describing other locations, we have stated how far they are from Plaza del Charco. This is because, without the shadow of a doubt, this is the nerve centre of the city.
You only have to walk through this rectangular square to notice that, whatever the time of day or evening, you can enjoy whiling away the time at any of its terraces or restaurants, watching the children play in the playground. Or you could simply have your photo taken in front of the bandstand or by the spectacular palm trees and curtain fig trees that lend their shade to almost the entire surface of the square.
Apparently, this square owes its name ['Puddle Square'] to the fact that in the past, waves from the sea streamed through the nearby quay, creating a huge puddle where people could even fish for shrimps.
It's been a long time since that happened, although the distance from the quay remains the same.
And the quay is another of the things to see in Puerto de la Cruz, so we recommend you head for El Muelle beach, have your photo taken at the statue of the fisherwoman that you'll see at the entrance, and take a look at the Customs House on the right-hand side.
9. Barrio de la Ranilla
− In Calle Mequinez, 400 metres from the Plaza del Charco.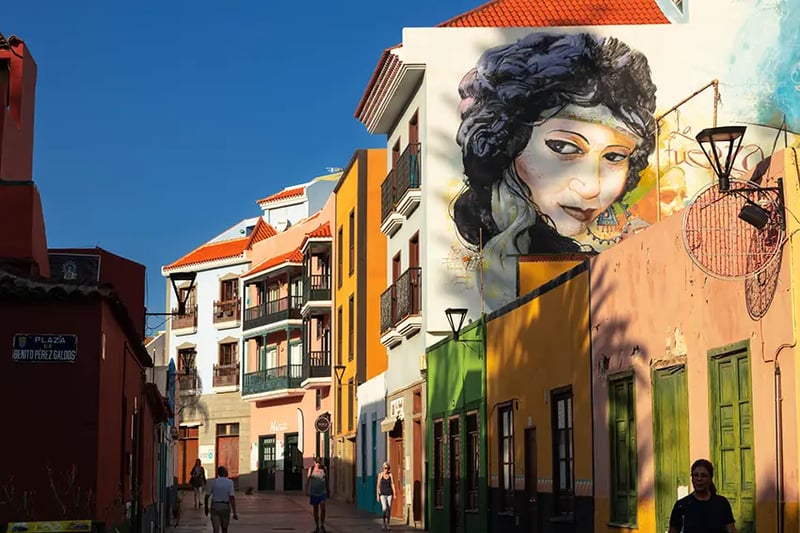 Near the Plaza del Charco, on our route towards the west of the city, we will see the beginning of Calle Mequinez. This street is home to the Espacio Artesano La Ranilla [La Ranilla Craft Area], which is named as such because it is located in this former fishing district.
This, mainly pedestrianised, area has become one of the latest places to see in Puerto de la Cruz, due to the fact that in recent times lots of craft-orientated establishments have opened here. This has lent the place an extremely pleasant, bohemian air, as all kinds of traditional products and increasing cultural activity can be found here.
10. San Felipe Castle and Playa Jardín, two other not-to-missed places in Puerto de la Cruz
− In Calle Luis Lavaggi, 850 metres from the Plaza del Charco.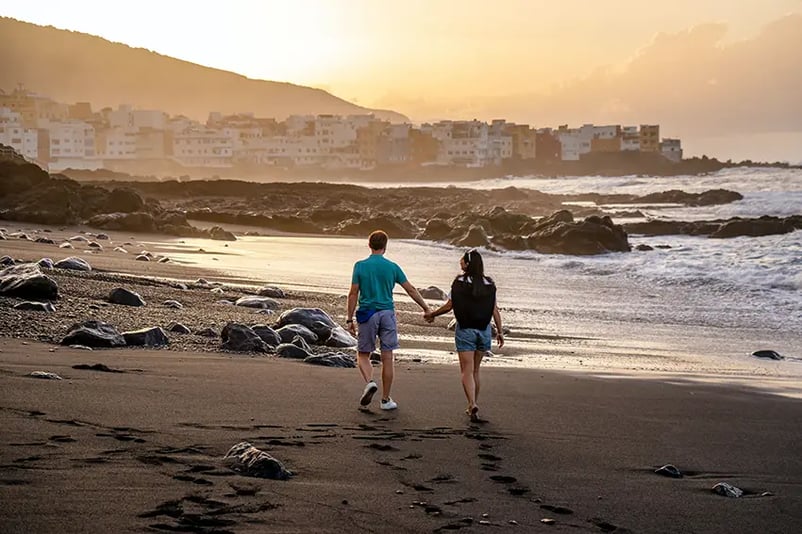 As if it were the gateway to the main beaches of Puerto de la Cruz, San Felipe Castle stands guard over a coastline that becomes ever more pleasant for bathers as far as the fishing district of Punta Brava.
San Felipe Castle
It is not difficult to imagine pirate attacks being launched on the towns of northern Tenerife. Both Puerto de la Cruz and Garachico attracted trade and wealth, and with them came boats with less than friendly intentions. So in the early seventeenth-century, this fortification was built as a defence against pirate incursions.
When the seafaring robbers stopped attacking the land, the castle's role changed—and it was used as a hospital, a leper colony, and even a restaurant.
Nowadays it is open to the public, as it has been converted into a facility dedicated to culture. Exhibitions, concerts and all kinds of cultural events are held here.
From the wall of Playa Jardín to Punta Brava stretches a bathing area comprising Playa del Castillo (also called Playa Jardín), Playa Chica and Playa María Jiménez (generally known as Punta Brava).
All are beaches of black sand and rock, presenting a striking contrast with the blue of the ocean and the colourful plant life of the gardens that surround them—gardens designed by the above-mentioned César Manrique.
If your list of the things to do in Puerto de la Cruz includes going for a dip on San Telmo beach, diving into the waters off any of these beaches won't be far behind. And if you time your visit to coincide with the sunset, it will be even more rewarding. Having said that, as is true of the other beaches, if you find it difficult to walk on sand unless it is fine and soft, it's a good idea to wear booties.
Book your excursion to Teide here
11. Loro Parque
− In Avenida Loro Parque, 2 km from the Plaza del Charco.
With the passage of time, Loro Parque has become a veritable institution in Tenerife. There are very few places on the island where you won't see the famous logo of this zoo which began, as its name suggests, with a collection of parrots belonging to the German, Wolfgang Kiessling. It was he, with the help of his father, who set up Parque Loro in the early 1970s. And Kiessling is still in charge today.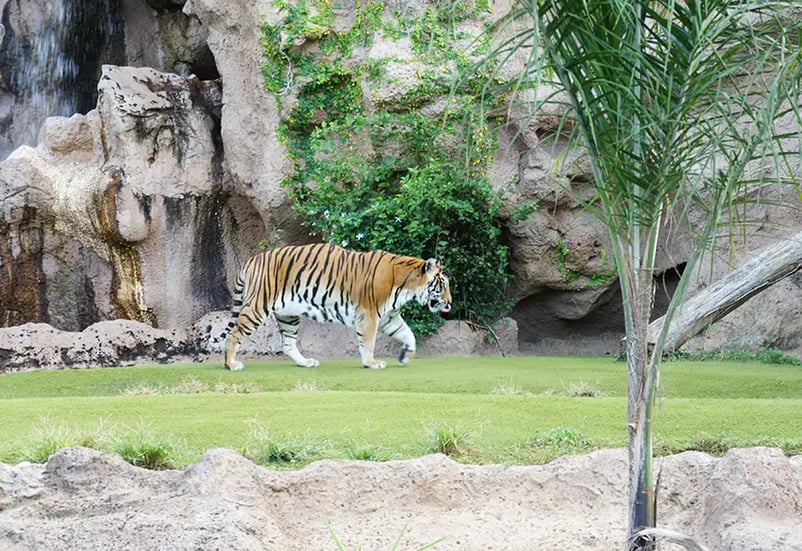 Since its beginning, Loro Parque has developed into a space whose priority is the welfare of the animals, a place where visitors can enjoy shows starring whales, dolphins, sea lions and, of course, parrots. The park covers 135,000 square metres, and if you want to see all of it, you need to organise your visit well.
As well as its animals, the zoo is outstanding for its lush plant life, making it a pleasant place to visit, even in the summer months when temperatures are higher.
Loro Parque is one of Puerto de la Cruz's most famous attractions, although it must be said that it trails far behind the Teide National Park. That is why we recommend that you grab the opportunity to see the legendary volcano, which you can visit during the daytime—or at night to enjoy a stargazing session with Starlight guides and professional telescopes (with pick-ups from Puerto de la Cruz).
Choose the excursion to Mount Teide you like the most:

12. Things to do in Puerto de la Cruz at night
Although the nightlife offer may be less rich and varied than in Las Américas or Los Cristianos, there is still plenty to do in Puerto de la Cruz at night. On the city's streets, you will find lots of places to eat and drink and, of course, pubs and clubs offering music and dancing to round off your day.
The majority of these establishments are in the city centre, particularly in the streets around Plaza del Charco and in those running parallel to the seafront promenade. And not all these venues are targeted at the same audience, as there is something here for all ages, and a huge variety of music on offer.
13. Where to stay in Puerto de la Cruz, Tenerife
Puerto de la Cruz has over 14,000 hotel places, so finding accommodation here is not usually difficult. However, if you're planning a trip, it is advisable to book as far in advance as possible, so that you can choose somewhere that really suits you.
Fortunately, the city has an excellent bus service, so you can easily travel from one place to another if you're not keen on walking.
If you've hired a car, make sure you have somewhere to park, as the only place where it is relatively easy is on the quay esplanade.
If, on the other hand, you don't have your own transport, don't worry, because you'll still have an opportunity to visit Tenerife's most spectacular sights. For example, from Puerto de la Cruz there are excursions to ascend to the summit of Mount Teide on foot or with the help of the cable car.
Book your excursion to ascend to the summit of Mount Teide

14. Where to eat in Puerto de la Cruz, Tenerife
The food and drink on offer, like that of accommodation, is extensive. On the city's streets, you will find all kinds of establishments. As variety is the spice of life, we would not presume to recommend any specific place, as one of the top things to do in Puerto de la Cruz is eating.
Nevertheless, you shouldn't leave Tenerife without having tried its traditional dishes. And no, we're not just talking about the famous wrinkly potatoes with mojo sauce. Canary Island cuisine offers many other treasures such as chick peas, rabbit in salmorejo [a tomato-based sauce], carne fiesta [literally, 'party meat'], goat meat, baked cheese and desserts such as polvito [a pudding made with biscuits and caramel cream], and quesillo, [a caramel custard dessert]. And we haven't even mentioned the quality of the fish and seafood.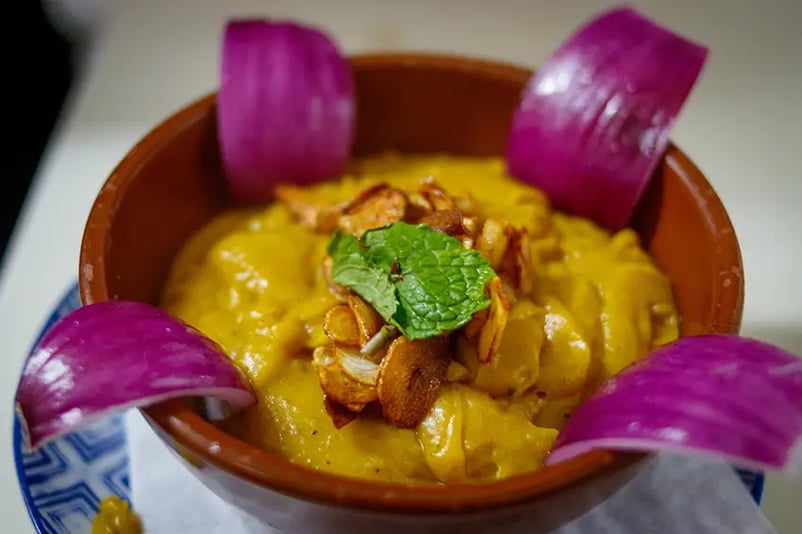 15. How to get to Puerto de la Cruz de Tenerife
As Puerto de la Cruz is one of Tenerife's chief tourist destinations, it is easy to get to from any part of the island.
By car. If you hire a car when you arrive by plane or by boat, you only need to drive to join the TF-5 motorway to travel northwards. Tenerife North airport is right next to this motorway, which begins in Santa Cruz de Tenerife and passes La Laguna—the island's two main cities. If you arrive at Tenerife South, your journey will be longer but no more complicated, as you'll join the TF-1 travelling northwards, and connect with the TF-5 via the TF-2. In addition, taxi services are available all over the island.
By guagua [bus]. There are plenty of buses linking the entire north Tenerife area, and connecting Puerto de la Cruz with the big cities. Take note of the following bus routes: 101, 102, 103, 104 and 310 all depart from Santa Cruz de Tenerife, although only the second of these stops at Tenerife North Airport. Route 343 starts at Los Cristianos, and has a stop at both airports.
As you have gathered by now, this tourist-orientated city has endless attractions for visitors. We should add that there are things to see near Puerto de la Cruz, such as the towns of La Orotava, Icod de los Vinos, and Garachico. Not to mention places further away, including the Macizo de Anaga mountain range, the Güímar valley, and of course, the omnipresent Teide National Park, an excursion not to missed on your trip to Tenerife.


Sign up for the Teide Tour Excursion with Cable Car