When we ask what to see in La Orotava, or which monuments we can visit in this centuries-old town, we are, perhaps, oversimplifying what it means to walk its streets, as we find ourselves in one of Tenerife's most important and best-preserved historical centres.
In fact, it would be more appropriate to ask what we can feel in La Orotava, as this beautiful town is linked to the island's history—and, of course, to the Teide National Park, since most of it lies within its boundaries. That makes La Orotava the ideal base from which to enjoy excursions to Mount Teide, and to appreciate at first hand the magnificence of this volcanic landscape.
Book the best excursions to Mount Teide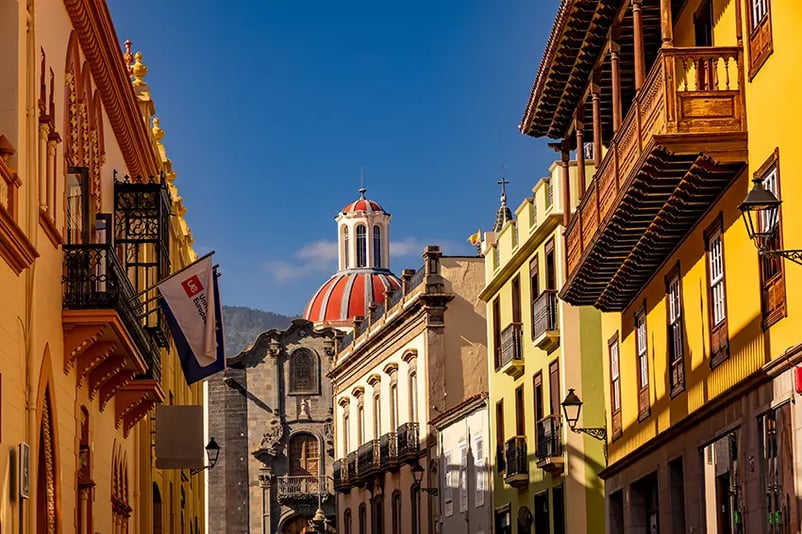 In the heart of the Orotava Valley and very close to Puerto de la Cruz, we find one of the most important towns in Tenerife. Whether it is because of its long history, its traditions, and the beauty of its most iconic buildings, or because of the landscape in which it is set, there is so much to see in La Orotava.
El centro histórico no es demasiado extenso y se encuentra en la parte más baja de la villa, aquella que ocuparon las grandes familias después de la conquista castellana en el siglo XV. Esto te permitirá visitarlo en una sola jornada si así lo deseas. A continuación vamos a realizar un recorrido guiado por los lugares que no te puedes perder.
Book the best Tenerife excursions
1. First stop: the Plaza de la Constitución
If you're asking what you can see in La Orotava in one day, the first thing you need to decide is which itinerary to follow so as not to waste time climbing the town's many hills—remember that it lies in a valley. And the best place to start is the Plaza de la Constitución which, for much of its history, was known as Llano de San Roque.
Its current name is nothing to do with the 1978 Constitution, but refers to the Constitution of 1812, known as "La Pepa".
The Plaza de la Constitución is one of the busiest and most popular spots with the locals. Here we can find the church of San Agustín—part of a group of buildings that includes the Casa de la Cultura and the Centro de la Cultura—and the photogenic central pavilion, the star attraction of the small esplanade.
From here, you will have a splendid view of the south of the town and of the nearby city of Puerto de la Cruz, where there is also lots to see, do and visit.
Discover the excursions that you can enjoy from Puerto de la Cruz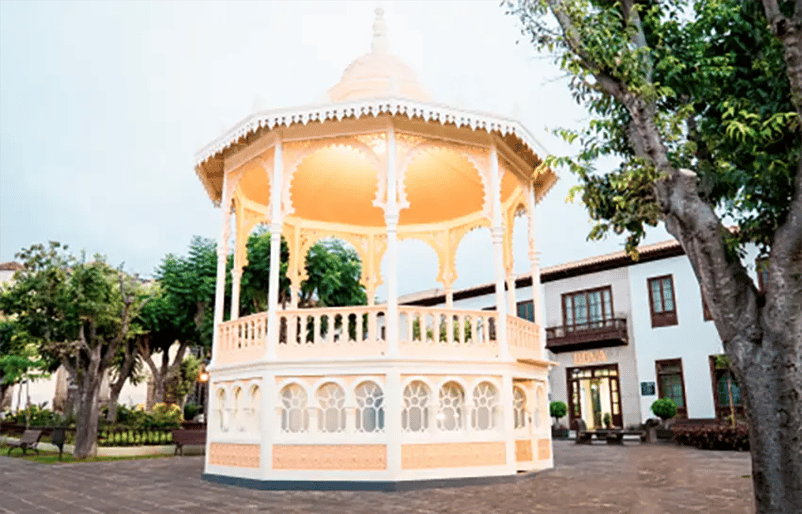 2. Liceo de Taoro
− In Calle San Agustín 6, 30 metres from the Plaza de la Constitución.
In the Plaza de la Constitución itself, there stands an imposing building dating back to 1928. You cannot fail to notice it, as at its entrance you will see a landscaped area and a magnificent staircase that leads to the Liceo de Taoro.
Since 1975, this has been the headquarters of the Liceo de Taoro Cultural Society, whose members are allowed to use the sports facilities that surround it (swimming pool, paddle tennis, tennis courts, and so on). However, all visitors are allowed to use its snack bar and restaurant, or to visit any of the exhibitions or cultural events that are held here.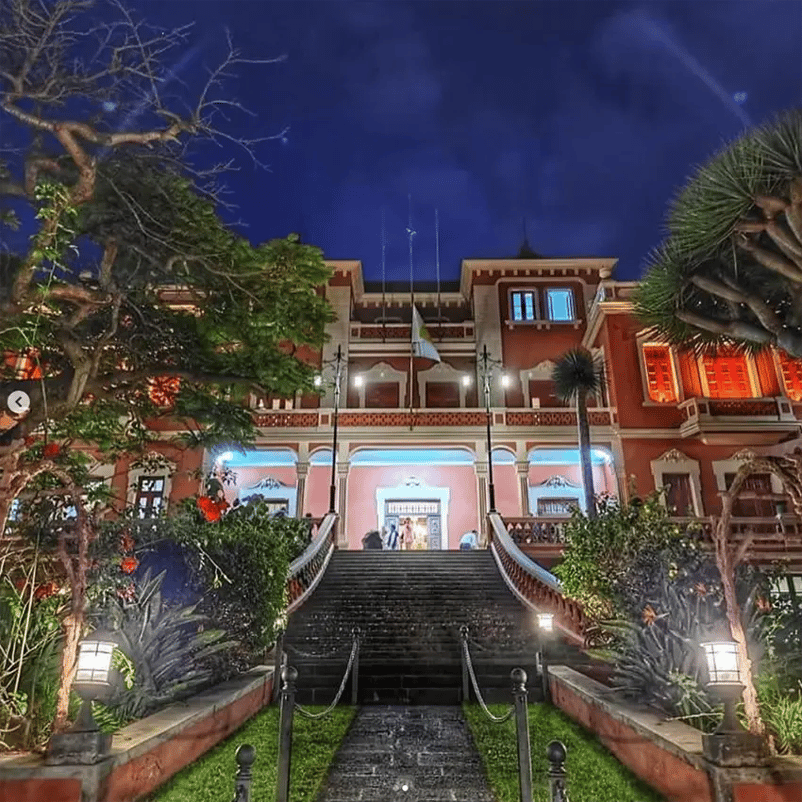 3. Jardines Victoria Gardens
− In Calle San Agustín 8, 90 metres from the Plaza de la Constitución.
Close to the Liceo Taoro lies another attraction worth visiting in La Orotava (and probably one of its most eye-catching sights), as its splendour can be glimpsed from several points around the town. The Jardines Victoria gardens are outstanding, thanks not only to their plant life and the excellent views afforded from the Pantheon that stands at their highest point, but also because of their history and their links to Freemasonry.
The Pantheon, built to house the remains of Diego de Ponte del Castillo, is a Masonic mausoleum with all the symbolism associated with the Lodge, and designed by Adolph Coquet.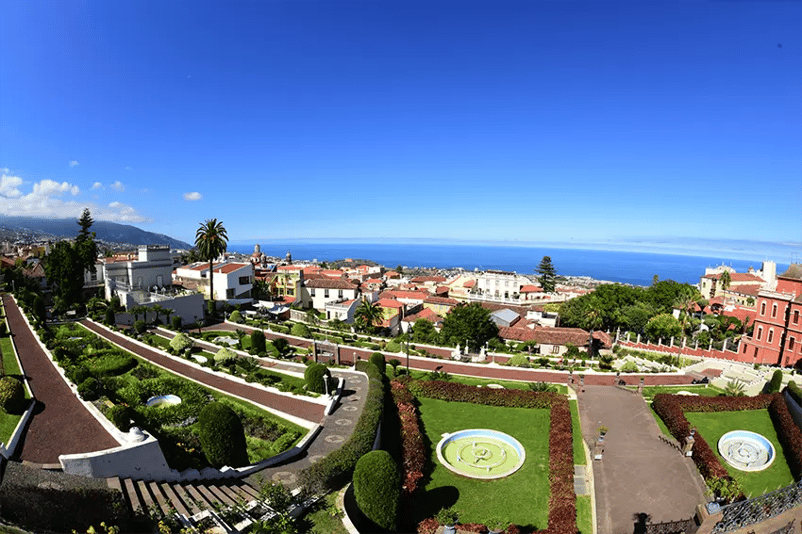 Apart from their symbolic significance and the fact that they once belonged to the Marquisate of La Quinta Roja, it is well worth strolling around them and taking photographs. In addition, the view is incomparable, affording a panorama that stretches from the sea to the peak of Mount Teide.

There is no doubt that the volcano has played a key role in the town's history. So, if you're wondering what there is to see near La Orotava once you have completed your tour of the town itself, it is always a good idea to visit Mount Teide at sunset, and enjoy its incredible night sky.

All the excursions to see the stars from Mount Teide
4. The Hijuela del Botánico Garden
- In Calle Tomás Pérez 6, 300 metres from the Plaza de la Constitución..
On this tour around the main highlights of La Orotava, we leave the Jardines Victoria gardens along the side street leading to Calle León. There we will find the entrance to the Hijuela del Botánico garden, whose official name is the Servicio Agronómico Nacional Hijuela del Botánico, just at the point where that street joins Calle Tomás Pérez.
Located in what was once the orchard of the former convent of San José, this little garden created in 1788 is an Asset of Cultural Interest.
We should remind you that it was designed as a plant nursery for the Puerto de la Cruz Botanical Gardens. And we recommend you take a stroll along its paths, as not only will it bring you a few moments of peace, but it will also allow you to see fantastic specimens of trees brought here from other parts of the world, as well as native species such as its magnificent Canary Island Dragon Tree.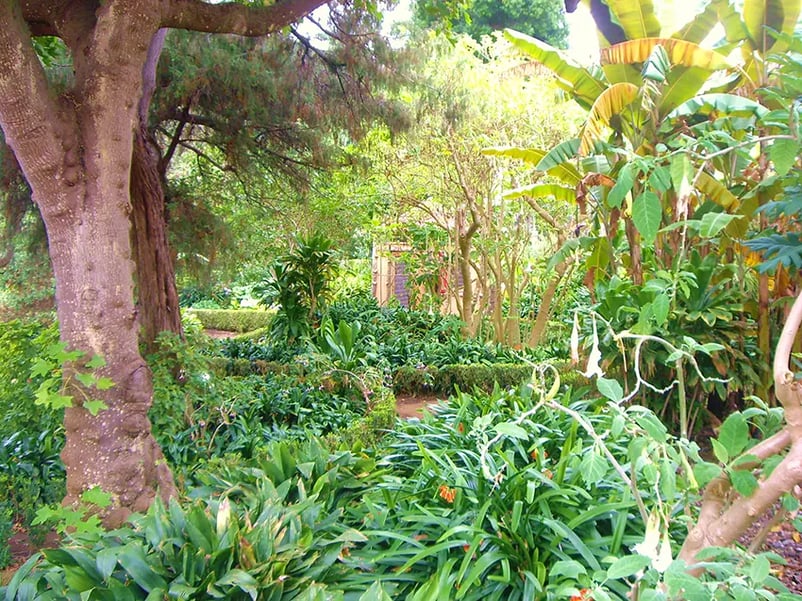 5. La Orotava Town Hall and the Corpus Christi carpets
− In the Plaza del Ayuntamiento, 350 metres from the Plaza de la Constitución.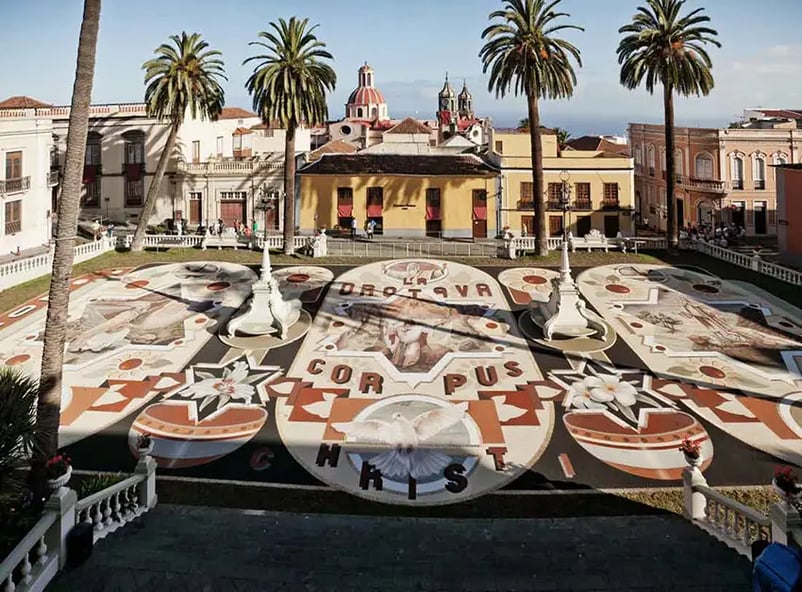 Next to the Hijuela del Botánico garden stands the burg's most important edifice: the Town Hall of La Orotava, whose façade looks out onto the square of the same name, and which attracts crowds of visitors.
Built in a neo-classical style following the demolition of the Poor Clare convent of San José, this edifice is outstanding for the rich collection of paintings it houses.
In fact, if you walk through its main rooms, you will see various works from the Reinhold Erwin Schoenwerk Collection, the former Casino Orotava Collection and the Municipal (or Town Hall) collection, as well as a few works given by the Museo del Prado in Madrid.
The Plaza del Ayuntamiento is also one of the most interesting spots in La Orotava in its own right, but if there's one moment in the year when it is the undisputed centre of attention, it is during the Corpus Christi celebrations. That is when the square is covered in a carpet made from flowers and other natural materials from the Teide National Park.

Discover the Teide National Park on the most comprehensive excursion
The origin of this tradition dating back to the mid-nineteenth century had nothing to do with the celebration of Corpus Christi.
It was from 1913 that the carpet covering the Plaza began to be made especially to celebrate this particular religious festival. And nowadays, it is one of the major attractions, not only of La Orotava, but of the whole of Tenerife.
Check out the most highly recommended excursions in Tenerife
6. The Casa de los Balcones, or Casa del Turista. A sight not to be missed in La Orotava
− In Calle San Francisco 3, 450 metres from the Plaza de la Constitución.
If you leave the Plaza del Ayuntamiento by the street called Carrera del Escultor Estévez, you will come to an area where you can find some more outstanding buildings. The first of these is the Casa de los Balcones (or Casa del Turista), whose name proclaims its outstanding feature—although when it was built in 1632, it was called Casa Fonseca.
It is a superb example of Canary Island architecture.
Not only can you take a journey into the past when you walk around its courtyard or look at its spectacular balcony. You also have the option of visiting the museum area where traditional Tenerife items are displayed.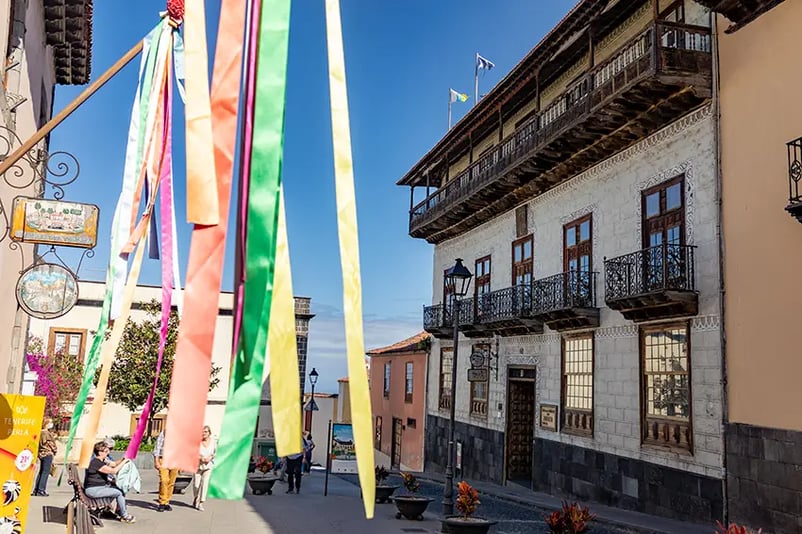 7. The Gofio Mill
− In Calle Colegio 3, 450 metres from the Plaza de la Constitución.
Not far from the Casa de los Balcones, we can find something else in La Orotava that is worth seeing because of its historical significance. That is the Molino de Gofio, one of thirteen gofio mills built to take advantage of the valley's steeply sloping landscape as it descended to the waters of the Atlantic.
This is one of two mills that are still in operation.
As its name suggests, the mill is dedicated to the production of gofio, one of the archipelago's staple foods. In case you didn't know, this is a flour made from various toasted cereals, particularly wheat or maize.
8. Casa Lercaro
- En la C/ Colegio, 5 y 7, a 450 metros de la Plaza de la Constitución.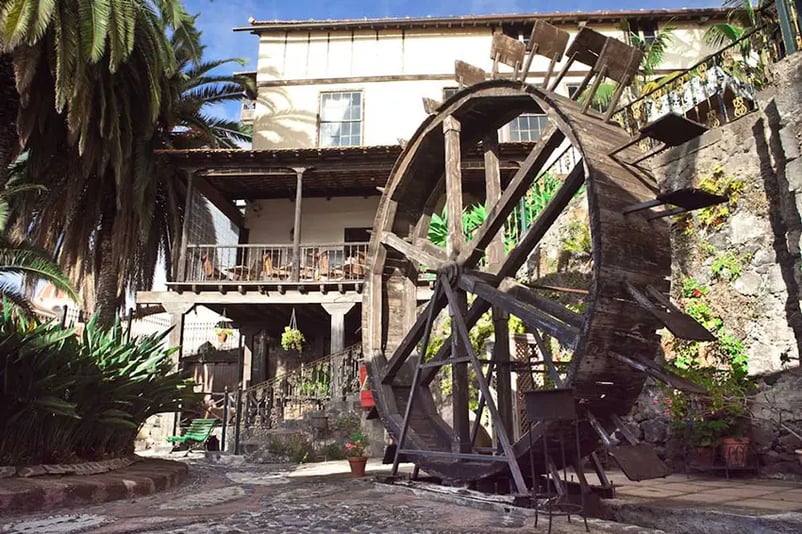 Close to the mill stands another of the buildings you won't want to miss: the famous Casa Lercaro. Built in the seventeenth century, this is one of the finest examples of Canary Island architecture built by La Orotava's old, aristocratic families. Nowadays, it houses a restaurant, and belongs to the owner of the Casa de los Balcones and the Casa de Molina so, if you wish, you can opt to visit all three buildings.
Thanks to its excellent state of preservation, it is not only one of the burg's chief attractions, but it is also used as a setting for films and series.
In fact, if you're a fan of cinema, in Tenerife you will find many such settings used for different productions. One of these is the Cañadas del Teide National Park, which you can tour on a guided excursion to make sure that you don't miss a single detail of this wonder of Nature.

9. Nuestra Señora de la Concepción church
− In Calle Cologán 2, 350 metres from the Plaza de la Constitución.
We are now arriving at one of the most important spots in La Orotava, and not only for Catholic visitors. This mother church is one of the finest examples of Baroque architecture to be found in North Tenerife.
Its undeniable beauty and the history that unfolded within its walls is linked to the history of the burg itself. This was the site of the town's first hermitage, built in the late fifteenth century.
The Church of the Immaculate Conception—Iglesia de Nuestra Señora de la Concepción—is the focus of the celebrations held in honour of Holy Week and Corpus Christi. And close by, there is a little square with a landscaped area, perfect for taking a break and drinking in the spirit of La Orotava.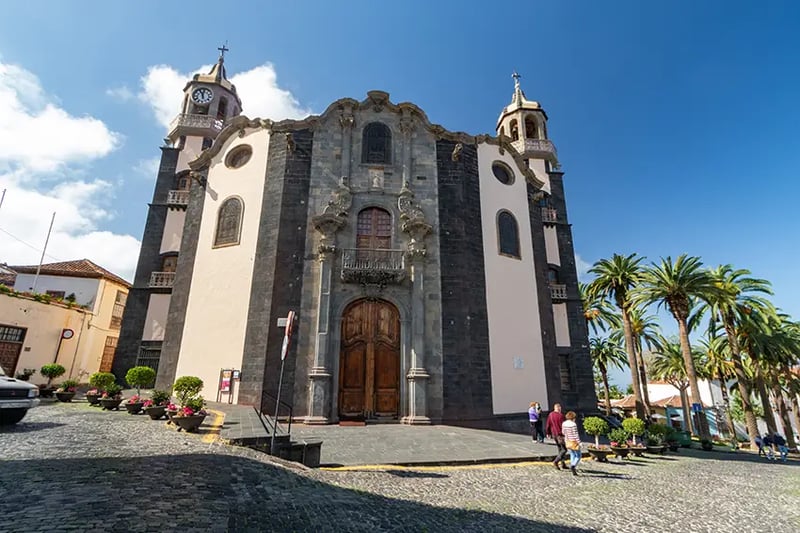 10. Tenerife Museum of Ibero-American Craft
- − In Calle Tomás Zerolo 34, 400 metres from the Plaza de la Constitución.
We are approaching our final stop on this tour of the sights of La Orotava. The Museo de Artesanía Iberoamericana de Tenerife [Tenerife Museum of Ibero-American Craft] is housed in the former Dominican convent of San Benito Abad, which is still used for religious services by the Church of Santo Domingo.
The museum brings together a permanent collection of craft from different Ibero-American sources—from both existing and extinct cultures, with a special focus on the Canary Islands themselves.
11. Where to stay in La Orotava, Tenerife
Its location close to the tourist resort of Puerto de la Cruz means that La Orotava's offer of accommodation is less extensive than that of its neighbour. Of course, this is not an insurmountable obstacle to finding delightful accommodation, whether you want to explore the burg or use it as a base to visit other attractions near La Orotava.
Both in the urban centre and in the outlying districts, there are plenty of casas rurales where you can stay, and immerse yourself in the soul of this legendary valley.
From them, you can undertake all kinds of excursions, although if there's one that you absolutely should not miss, it is a visit to Mount Teide, and its famous cable car and Astronomical Observatory. For this reason, you mustn't miss the chance to experience the legendary volcano as night falls and seeing the incredible star-strewn sky above it.


12. Where to eat in La Orotava, Tenerife
Finding a place to eat well in Tenerife could not be easier, as the island's gastronomic offer is truly superb. And this applies equally in La Orotava. In the town's streets, you can have lunch or dinner in excellent establishments, with some of the most outstanding being those specialising in traditional cuisine. From the previously mentioned Casa Lercaro to the centuries-old sweetshop Casa Egon, you won't leave the town without having eaten well.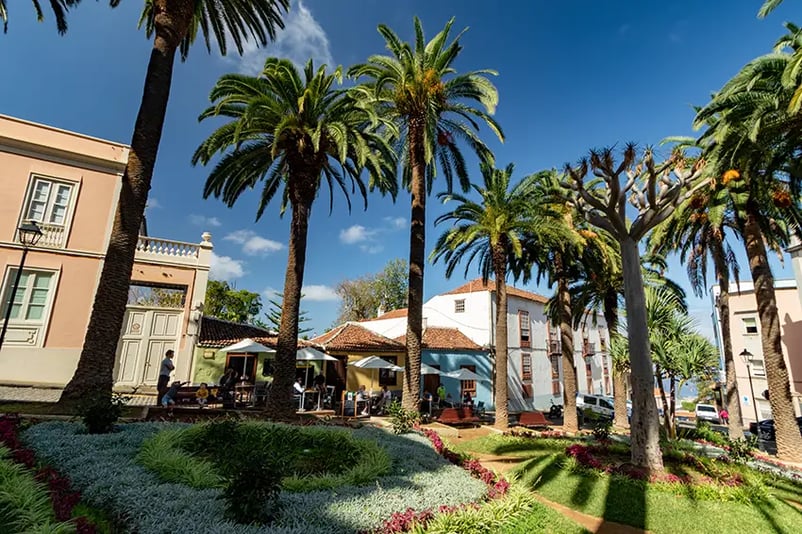 13. How to get to La Orotava de Tenerife
It is a testament to the importance of La Orotava that its streets can easily be reached by all kinds of visitors.
By car. You only need to follow the TF-5 motorway that runs through the north of the island, and take exit 33. Another option is to take a taxi.
By guagua [bus]. The following public transport routes will bring you to La Orotava: The 107, 108 and 101 all depart from Tenerife North Airport and Santa Cruz de Tenerife, and the 345, 350, 352 and 353 depart from Puerto de la Cruz.
As you will see from reading this article, not only is there a great deal to see in the town of La Orotava, but the area around is a beautiful valley that was the scene of a volcanic eruption. Moreover, within the municipal area stands the Peak of Mount Teide, the true "king" of Teide, and a not-to-be-missed visit, which is better if you join an organised excursion. By doing this, you will be making your contribution to a sustainable Mount Teide.

Book now your excursion to Mount Teide (with or without cable car)
And if you enjoy an exciting experience and you're physically fit, remember that you can go up Mount Teide and reach the highest peak in Spain. Find out how to travel to the summit of Mount Teide on a guided excursion, or by cable car, and what you need to know about access permits.