When you imagine your holiday in Tenerife, there is only one word that comes to mind: relaxation. The island is the perfect place to disconnect, to pause and stop your daily routine. In order to achieve this you have many allies: fine sandy beaches, hotels with swimming pools where you can enjoy the fantastic temperatures and sunbathe, places to get lost in and disconnect… And all of this, free of worries.

We would like your perfect dream to come true, this is why we are offering you our organised excursions to Teide, Spain's highest mountain. An enormous natural park full of beautiful landscapes, lookout points that will make you feel fortunate and the perfect place to enjoy your break, amongst a unique flora and fauna.
Getting there has never been so easy, as our excursions include return transport from your hotel and are in small groups. Why rent a car, going to a place you are unfamiliar with, paying for petrol and returning it before time? Free yourself and put your worries to one side.
This is what to expect when you include one of the following experiences on Teide in your to do list for your next holiday:
Disconnect on the other side of the island

: Tenerife is not only beaches. It does have some of the best beaches in the world, but the Teide National Park is also a gem for any traveller wishing to discover a world of nature and disconnect from the real world. Combine your relaxing moment on the beach or at the hotel pool with authentic and relaxing experiences on one of the most famous volcanoes on the planet.

Reach the highest peak without any worries

: Why can

't going to the highest peak in Spain be a pleasurable experience? Make no mistake, it can be: the cable car and the facilities of the Natural Park make reaching the top a relaxing and enriching experience. Getting to the base station does not take any effort, as the experiences we offer include return transport from your hotel…

and are in small groups! Forget about the usual waiting around.

Enjoy experiences of a lifetime

: explore the volcano, reach the top, observe the sky, feast on a dinner designed by a two Michelin star chef under the stars, fly over ancient lava flows and admire one of the best views in Europe. At Teide you have everything at your fingertips.

Small groups

: in addition to providing an efficient pick-up and return to your hotel, we work with small groups, so that you will have one of our guides at your disposal. Bare this in mind, as it is one of the aspects that our customers value the most.
Right, now we shall move on to the experiences we suggest for disconnecting in the middle of nature and turning your paradisiacal holiday on the beaches of the Canary Islands into a magical experience:
#1 Teide Tour
An 8-hour guided tour of Teide. You will be in the company of an expert guide, who will tell you about everything that you come across. Discovering Teide with a guide enables you to learn fully about the mountain and one of the most famous volcanoes in the world.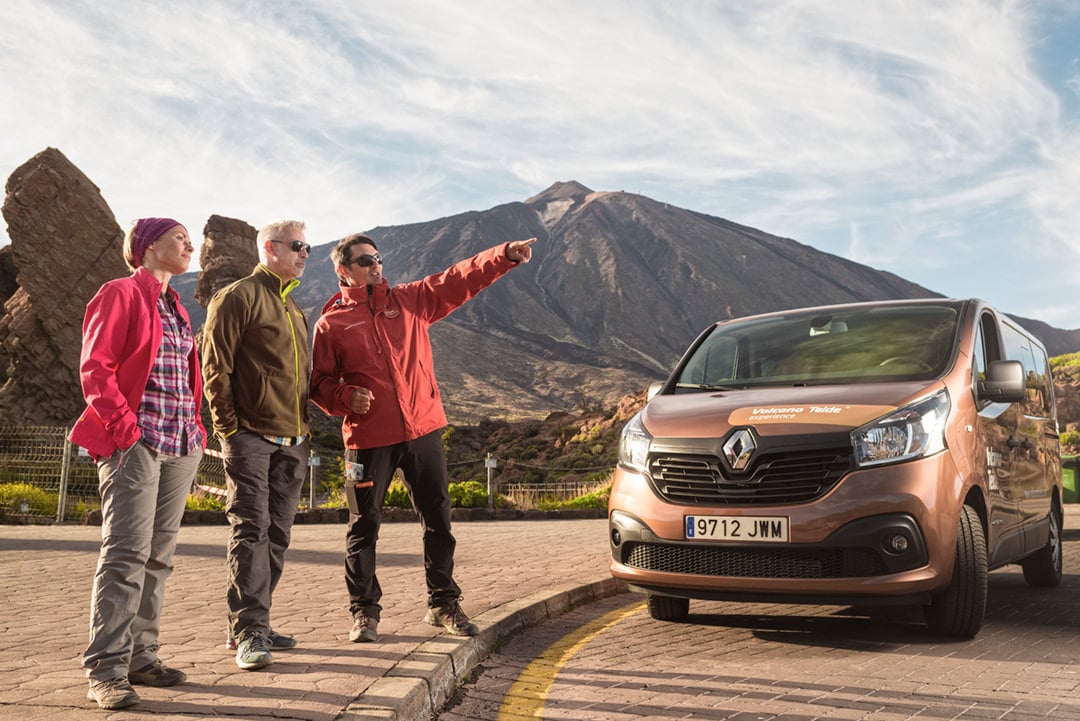 This experience is carried out in small groups and includes return transport from your hotel, which means that you will save time and have a guide much more at your disposal than usual.
This excursion also includes the cable car return ticket to the upper station, from where you will be able to do one of the two available routes and enjoy breathtaking views at 3,555 metres above sea level. These routes are well worth doing: Walking on an active volcano is priceless.
#2 Excursion to the Peak of Teide
Reaching the highest peak in Spain has never been so easy.
After picking you up at your hotel, we will take you to the cable car base. You will travel on the cable car, flying—literally—over the ancient volcanic lava beds and reach the upper station without even realising that you have arrived at 3,555 metres above sea level.
From this point the guided tour to the crater of Teide starts, the highest point in the country, 3,718 metres above sea level. By this time you will have felt the excitement of reaching a privileged enclave, without anything stopping you from enjoying your inner peace, the absence of problems and an incredible panoramic view of the Atlantic with the islands of El Hierro, La Gomera, La Palma and Gran Canaria in the background.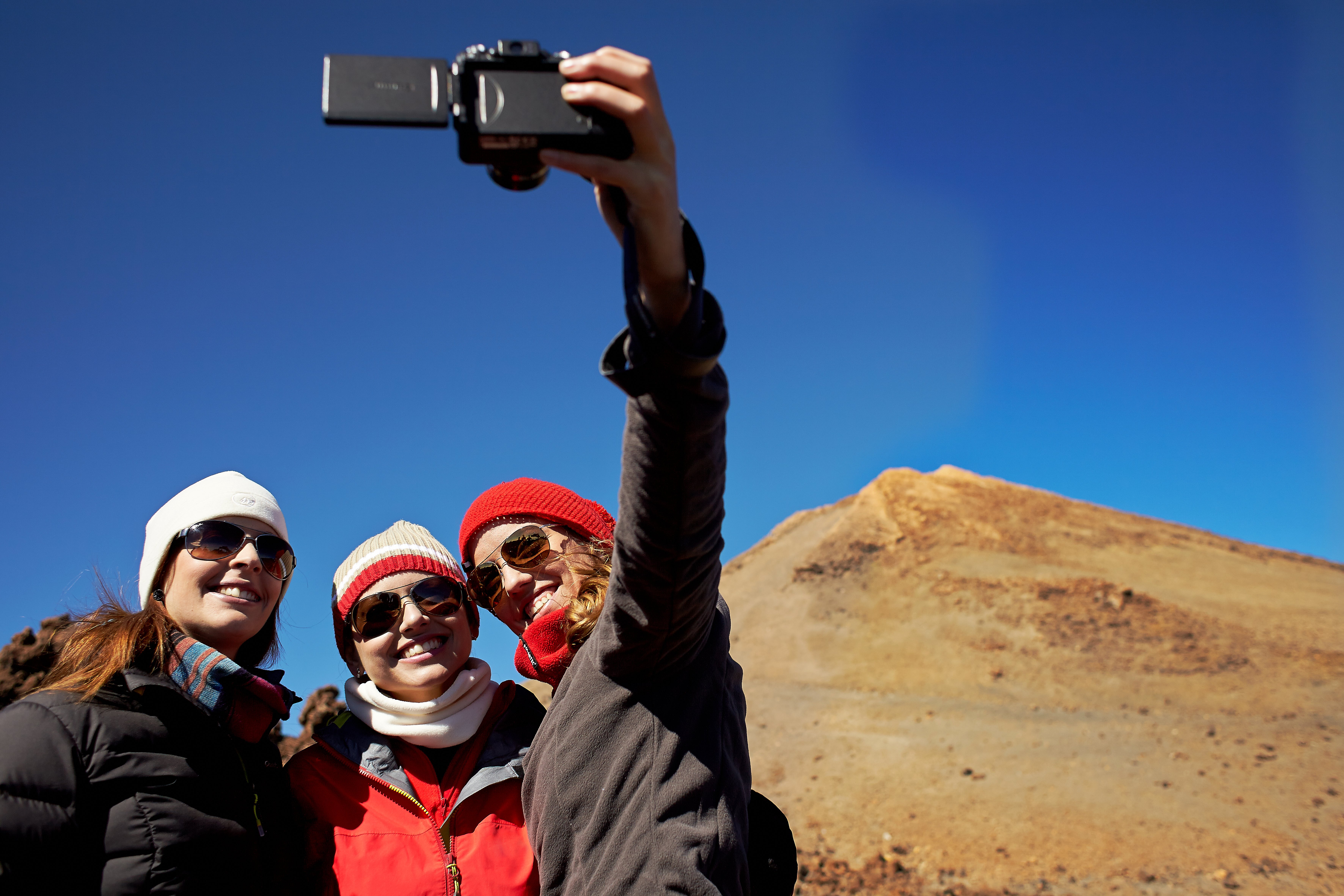 From the moment you are picked up at your hotel, you will be accompanied by our expert guide who will be at your complete disposal, as we work with small groups! You will be brought closer to the volcano's enormous cultural and natural heritage through stories and anecdotes. Did you know that it is the third highest in the world if we measure the distance between the crater and sea bottom?

It is important to highlight that if you wish to travel up on your own, you will need to apply for a permit, issued by the National Park and essential for accessing the top of the mountain. With our excursion to the peak of Teide you will not have to worry about this as it is included. This is a great opportunity as travellers who wish to go on their own usually have to wait months. Put yourself in our hands and don't risk it!
#3 Tour at sunset
This experience fits in perfectly with a relaxing morning enjoying Tenerife's warm temperatures. As this activity takes place during the evening you will be able to enjoy your time during the day as you please: pool or beach?
The activity starts when we pick you up from your hotel at the arranged time. We have a very effective transport system because we only work with small groups, therefore you will not have to wait and you will have a guide who will tell you interesting information and facts as well as answering any questions you may have.
We will take you to the cable car base station, followed by a pleasant aerial trip where you will completely disconnect. Up in the heights your mind will enjoy not thinking about your day-to-day worries.
Once you arrive at the upper station—at 3,555 metres above sea level—you will take a beautiful route to the Pico Viejo lookout point. The prize is not only at the end of the trail. During this relaxing walk you will witness lava tongues, fumaroles… you might even meet Guayota. If you don't know who he is, your guide will reveal the legend about him.
At the end of the route, when you arrive at the Pico Viejo viewpoint, you can get your camera out of your bag and take the best panoramic pictures ever: a sunset over the Atlantic Ocean with the islands of La Gomera, El Hierro and La Palma in the background. There are very few places better than this to feel your body and soul rise.
As if that was not enough, this organised excursion in Tenerife continues until you reach the base station, where various high power telescopes will be waiting for you to discover the mysteries of the starry sky. Did you know that from Teide you can see 83 out of the 88 existing constellations? After all, our sky is considered to be one of the three best in the world for stargazing.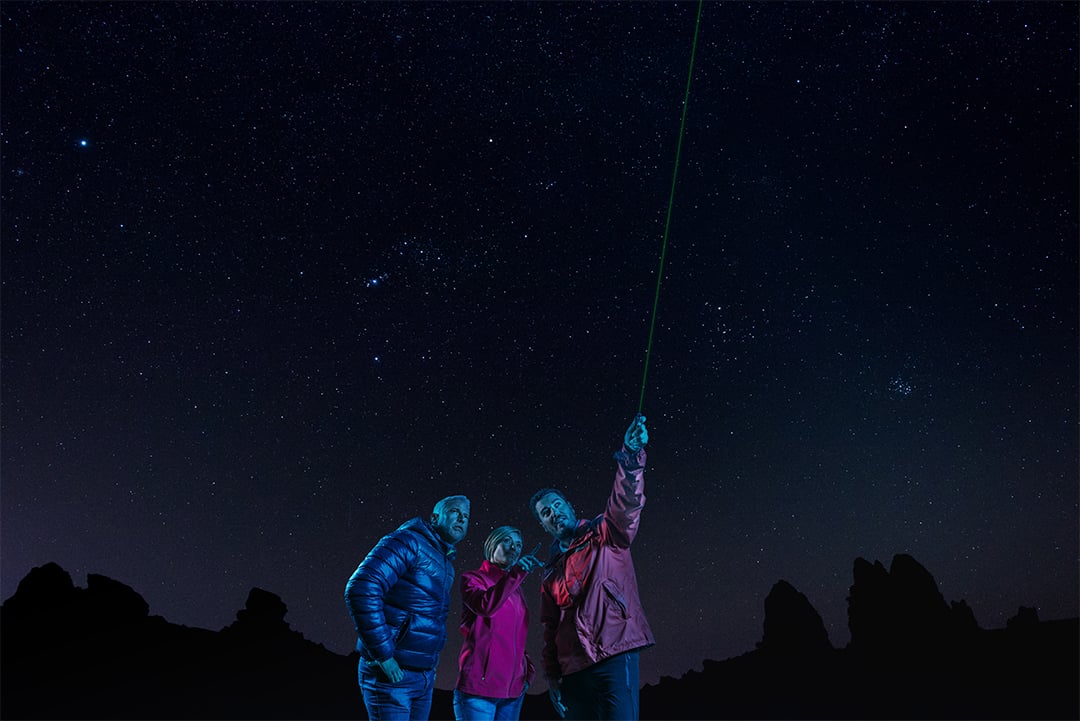 After travelling through the sky with the help of telescopes and the Starlight guides, we will end this incredible and unforgettable day taking you back to your hotel.

#4 Tour at sunset including dinner
This activity is only available on Fridays from May to October, which is ideal if you are planning your next relaxing holiday to Tenerife during the summer months. If this is not the case, the most similar experience to this one is the tour at sunset without dinner, number 3.
After picking you up from your hotel, we will take you on a pleasant journey to the cable car's base station. Our transport system is designed for small groups, thus erasing the usual waiting time and from the moment you get on the bus you will be accompanied by a guide, an expert in the island's natural and cultural heritage, who will be at your almost complete disposal.
Once you have arrived at the base station, your journey across the air will commence. Complete disconnection. You will see a hillside in which, over 200 years ago, rivers of lava flowed for 99 days. You will also see the shadow of the volcano cast over the ocean, through which you will be able to find your inner peace, something hard to achieve in any other place. Amazing, don't you think?
No less incredible is our guided tour from the upper station to the Pico Viejo viewpoint, where you will feel further and further away from your problems and closer to your absolute well-being with every step you take. The landscape, the natural environment and our guide will make sure of this.
At the end of the route, at mid sunset, you will arrive at the Pico Viejo volcano viewpoint, where you will be able to view the 800 metres in diameter crater and see on the horizon the Atlantic Ocean and the islands of La Gomera, El Hierro and La Palma. A view fit for a postcard!
This guided tour also includes a gastronomic stop. On your way back to the cable car's base station you will be able to enjoy a meal designed by the chef Erlantz Gorostiza, from the MB Restaurant, winner of two Michelin stars. This menu, with a volcanic touch will bring you closer to Canarian cuisine through local high quality products, paired with the best wines on the island. Yum!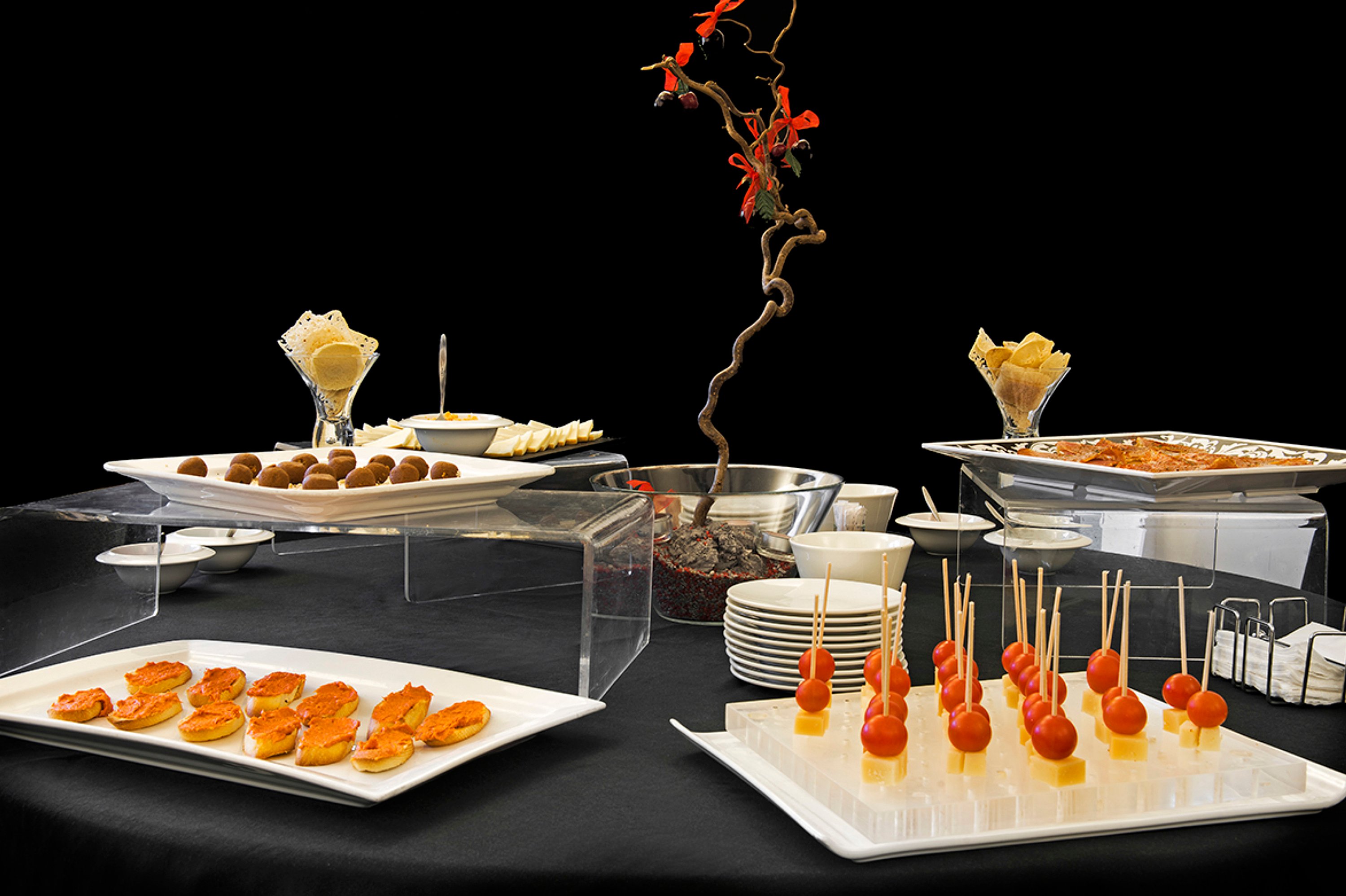 After tasting the delights of the Canary Islands, it is time to see the stars. You will be accompanied by the Starlight guides and feel the excitement of learning about the Universe like never before. Are you the kind of person that relaxes while watching the stars? Make the most of it! You will be able to use high power telescopes and ask any questions you may have to experts of the sky. We do not want you to leave without fully getting to know one of the best skies in the world or without reaching your inner peace.

When we have finished, we will take you back to your hotel after a pleasant evening under the starry sky.
Do you want to check out our calendar of activities?
All of these organised excursions in Tenerife include return transport from your hotel, in small groups: no waits and a qualified guide who will be with you at all time.
If you wish to know further options that allow you to discover the highest peak in Spain, do not miss the visual calendar where you will find all of the organised activities we offer on Teide:
We hope that in Teide's natural atmosphere you find your way to your complete well-being for your perfect holiday!